Online Arbitrage
Sourcing Secrets for Buying Products Online to Resell for Big Profits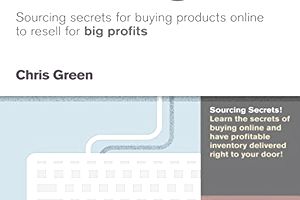 The idea of arbitrage is fascinating. Although "buy low and sell high" is the basis of all trading, arbitrage takes this a step further. It creates a no risk (or low risk) back-to-back opportunity to gain the spread between the selling and buying price, by becoming the middleman in matching trades. That is what led me, excitedly, to this book.
Content
One of the most exciting features of this book is that it takes several real life examples to explain every step the author took to make money on a specific deal.
This includes a listing of the apps, products, and online services the author used. It includes the information the author focused on, and eventually, made a profit. This approach makes this less of a book and more of a course in online arbitrage.
Author
Chris Green is an expert in the Fulfillment By Amazon (FBA) program. He has personally sold over two million dollars' worth of merchandise on Amazon and eBay. That makes him uniquely qualified to tell us about online arbitrage.
Pros
Even if you are not familiar with the opportunity of online arbitrage, the book makes it easy by providing you a detailed, step by step explanation.
Using QR codes, the book points out online videos you must watch.
Cons
As an arbitrage seeker, I am very conscious of the money I invest into anything. And at close to $300, this book is frightfully expensive for my taste.
I am sure I can find several free online tools to help me spot arbitrage opportunities across ecommerce platforms, without reading this book.
There is too much competition in these methods for people to realistically be able to make any sizeable profit, leave alone a living.
Details of the Hardcover Edition
Pages: 480
Publisher: CreateSpace
ISBN-10: 1500333824
ISBN-13: 978-1500333829
Conclusion
Arbitrage is about identifying and closing matching deals where the buyer is ready to pay a higher price than the seller is asking for.
This differential is the arbitrage profit. If you can find an adequately large number of arbitrage opportunities, you can make a neat profit -- even one that can support your lifestyle without any other source of income. At least that is the promise that attracts people into arbitrage.
Like I said earlier, I love the idea of arbitrage. It's the closest one could get to making something from nothing. But I fear that is not so easy. This book does make it sound easy, but there are only a few people who have managed to make any real money from online arbitrage. Yet, there are a couple of exciting and credible stories that occasionally emerge online. So I do not want to give up on the possibility -- far from it. But I do want to caution the prospective arbitrageur that this is not like the free money it is presented to be.
Here are some more ecommerce books that you will enjoy: