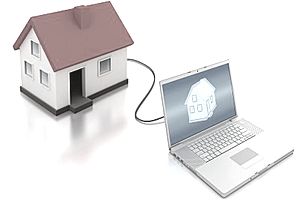 What do you anticipate your client mix to be?:
Whether you're planning on working mostly with buyers or sellers can be the most important factor in whether you need a full physical office or not. Generally, you'll probably find that you're meeting buyers outside the office anyway. Many real estate professionals meet their buyer clients at locations near the area in which they're showing properties.
Obviously, there's less need for an office in this scenario.
Sellers however probably will value a "brick and mortar" business location more.  There is a perception issue here, and listing their home with someone who can't show them a wall full of listed home photos will be asking a lot of the average seller.  Of course, if you can show them MLS reports showing your listings sell faster and for a higher percentage of asking price than your competitors will go a long way.
Are you equipped to be mobile?:
Let's say you've done your research, set appointments and you've just met your buyers at Starbucks. They spring on you that they want to add a home to the list that they saw in a homes magazine.
They have the MLS number, but you can't look it up on the fly, as your access is on your home or office computer. You must consider this situation as the norm, rather than the exception. If you want to be mobile, have a wireless computer and even better a portable printer and scanner to do the job.
Currently I'm totally mobile with a Microsoft Surface Pro 4, Epson WF-100 printer and an Epson DS-40 portable scanner.  All three fit easily into a single briefcase or bag.  The printer is wireless.  I use my Android phone hotspot wireless and just turn the printer on and connect on the computer.  I really limited very little with this arrangement, as any more sophisticated printing or scanning is rarely required in the field or in my travels.
With agents, have a conference or meeting room:
Whatever you may think will work for you personally, if you want agents to hang their license with you, have a professional place for them to meet clients.
Generally, those who hang their license with a broker do so because they want a certain level of support and business presence presented to their clients and prospects. At the very least, provide a rented conference room setup with an internet computer for them to use to meet and serve their clients.  I'm writing this more as an individual broker who doesn't really want agents.  If I did, I'd probably have to set up some kind of office arrangement, as they're not going to give up a piece of their commission and not have somewhere to go to work.
Can you get signatures digitally or with a pen on a screen?:
Many of the documents we use in real estate transactions today can be acceptable with digital signatures.  Some cannot, and some states do not recognize them, so check your area and laws.  However, with the equipment already mentioned, you can fill in the document blanks on a computer or tablet and print them out for signatures, including a copy for your clients.
I like it when I can get the signatures on the screen of the Surface Pro computer with the pen and leave everything in digital format for the short term.
 That way I can email a copy to my clients, the other agent, the title company or whomever needs one.  I can also print one out later for real signatures if required.
It's all about client service:
As your prospect and client base become more technology and internet oriented, there will probably be less value placed in a physical business location. However, particularly with listings, the ability of the local client to walk into an office to discuss their property will probably always be important.