Office Depot Retail Profile: Mission, History, Trivia, Category Killer
Office Depot Charitable, NASCAR, Green Activities and Global Locations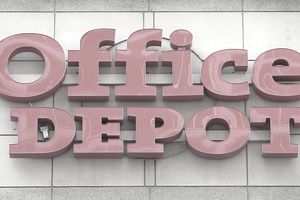 It seems that the profile of an iconic retail chain would include a history of category killing competition that spans decades.  But the business profile of the Office Depot retail chain includes things like the company's mission, charitable activities, NASCAR sponsorships, Green environmental commitments, and global locations, but no long history.  At just barely 30 years old, Office Depot is in its infancy compared to the oldest U.S. retail chains.
Office Depot Founders and Famous Leaders:
The Office Depot retail chain was  by Stephen Dougherty, Pat Sher, and Jack Kopkin in 1986. All three were involved with Mr. How Warehouse (Home Owner's Warehouse), a home improvement company that Sher sold to Service Merchandise in 1983 for $13.6 million, just three months after the first store was opened.

Sher passed away from leukemia, less than a year after the first Office Depot store opened.

Kaplan retired from Office Depot in 1990, and died at age 77 from complications of a stroke.
Office Depot Vision and Values:
According to the company's website, Office Depot has very clearly defined the vision and values that guide the decisions and the actions of its employees. A vision statement is crafted by a company to define what it considers to be its ultimate future.
 
First Office Depot Store:
The first Office Depot Store was opened in 1986 in Lauderdale Lakes Mall in Fort Lauderdale, FL.
 The retail store was the first of what would become a category killing Big Box retail chain.  The first Office Depot store had 7,000 office-oriented supplies for home offices and small businesses.  
Office Depot Competition, Category Killing, and Mega-chain Mergers:
The Staples office supply retail chain opened the same year in Boston, MA.
 OfficeMax, which would be a primary competitor for Office Depot, was founded in 1988.  Just 25 years later, Office Depot and OfficeMax merged into one company, retaining both namesake brands. 
 In 2016, Staples and Office Depot were in court seeking approval for a merger of those two companies, which would make all three of the largest office supply store chains into one mega-chain with no significant national competitor besides online retailers like Amazon.com
Staples had attempted to acquire Office Depot in 1997, but the acquisition was blocked by the Federal Trade Commssion, due to anit-trust regulations.
Office Depot Trivia and History Milestones:
After the initial public offering of common stock was completed in 1988, the Office Depot instituted a stock option plan for its employees.

Office Depot first expanded internationally into Canada, when it acquired The Great Canadian Office Supplies Warehouse chain in 1992.

The company first expanded outside of North America in 1994 when it started operations in Israel and Colombia.

In 2004 the company's Office Depot Advantage customer loyalty program was launched.
Office Depot NASCAR Racing Partnership, #14 Tony Stewart Sponsorship:
Office Depot first became the Official Office Products Partner of NASCAR in 2005, and continued in that partnership through 2012, at an estimated cost of nearly $20 million per year.


Carl Edwards and Roush Fenway were the first drivers sponsored by Office Depot, and took the checkered flag 14 times in the #99 Office Depot Ford from 2005-2008.

In 2009 Office Depot is sponsoring driver Tony Stewart, and is sharing sponsorship of that #14 Chevrolet with Old Spice.
Green and Environmental Programs Initiated by Office Depot:
Office Depot first demonstrated environmental responsibility in 1990 when it first started selling recycled paper products. Other "green" initiatives have been instituted since then.
Introduced its "Green Book" Catalog and its ink and toner recycling program in 2003
Began a recycling program for electronics, cellphones, and rechargable batteries in 2004
First powered 20 of its retail stores with renewable "Green Power" to reduce greenhouse gas emissions
Introduced "Office Depot Green," an environmentally friendly product line in 2008
Opened its first green store in Austin, TX with LEED certification in 2008
Office Depot's Charitable and Community Involvement Projects:
Since 1993 Office Depot has been actively involved in charitable and community improvement projects.

1993 - Office Depot Foundation helped both employees and community members in hardship

1994 - Raised money for March of Dimes, the Leukemia Society, and Junior Achievement, totaling more than $1 million

2001 - Started participating in the Gifts In Kind donation program, and has donated tens of millions of dollars worth of office supplies to non-profit organizations since then

2001 - Began National Backpack program, and has donated 1.8 million backpacks filled with office supplies to school children since then
The Office Depot International Locations and Worldwide Affiliations:
Office Depot sells its products in 48 different countries in retail stores, catalogs, and e-commerce websites.
Austria
Belgium
Canada
Costa Rica
Czech Republic
El Salvador
France
Germany
Guatamala
Hungary
Ireland
Israel
Italy
Japan
Luxembourg
Mexico
Netherlands
Slovakia
South Korea
Spain
Switzerland
Multi-Channel Sales and Marketing for Office Depot:
Office Depot sells its products in retail stores, on its e-commerce websites, and with direction marketing catalogs. Additionally, they employ a contract sales force, and outbound telemarketers to work directly with medium and large businesses.
Office Depot Corporate Office and North America Store Locations:
Office depot was first incorporated in 1986, and its first retail store location was in Fort Lauderdale, Florida.

Corporate Address:
Office Depot Corporate Office
6600 North Military Trail
Boca Raton, FL 33496