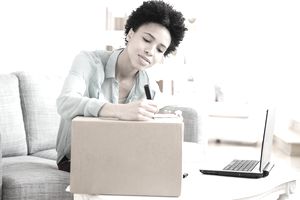 eBay offers lots of opportunities to make money online, but many new sellers are intimidated about how to ship on eBay. If not understanding shipping is holding you back from giving eBay a try, or if you have just sold an item and don't know what to do next, this article is for you. There are just a few questions you need to ask yourself and specific steps to follow and you will be on your way. Millions of eBay sellers ship packages from home every day, and you can, too.
Consider Shipping Before You List
Many new sellers overlook this step. Your goal in listing an item is to sell it, which means you will need to ship it. Think about how you will ship it before you even list it. How much does it weigh? Does it need to go in a box? Will it need a lot of extra packing materials for cushioning, such as dishes or a clock? Sellers should keep a variety of boxes on hand to ship items of different sizes, shapes, and weights. 
Stockpile Common Sizes of Free USPS Shipping Supplies
The most commonly used USPS shipping supplies are:
Padded flat rate envelopes
Tyvek envelopes
Shoe boxes
6 x 6 x 7 cube boxes
8 x 8 x 12 boxes
Shirt boxes
All of these can be found on the USPS website and shipped directly to your home for free. If you over-order or accumulate more than you will need, just give them to your mail carrier to take back to the post office. These supplies can only be used for USPS Priority Mail.
You may not turn them inside out to use for other classes of mail.
Order Poly Mailers for First Class
Items weighing under 16 ounces can be shipped First Class. You want to ship lighter items first class because it is cheaper than Priority Mail, and your competition is already doing it. If you charge too much for shipping because you were lazy, your competitors will get the sale.
The post office does not provide shipping materials for free for first class. Poly mailers are best used for non-breakable items such as clothing. These are the slick white tear-proof mailers that are waterproof. Many major retailers like Kohls, LL Bean, and Old Navy use these mailers. Maybe you have received prescription drugs in them. Your best bet is to buy a combination of different sizes until you know what size you will use most often. Poly mailers cost about 3 cents each, depending on the size. Order small combo packs on eBay here to get started. 
Use Calculated Shipping
Calculated shipping is the most fair option for your buyer, with one exception that will be explained later. When listing your item, choose the calculated option and enter the weight of the item including the weight of the packaging. (This is why you need to figure out how to package the item before listing it.) eBay's shipping workflow is integrated with the USPS, so when the seller chooses calculated, the buyer will see their shipping cost based on the weight, class of mail, seller's zip code, and their own zip code. You don't even have to think about it — eBay and USPS will calculate the shipping cost for the buyer automatically.
Here is a great video on how to use the calculated shipping option on eBay.
The Exception — The Padded Flat Rate Envelope (PFRE)
USPS offers a padded flat rate mailer that is perfect for some clothing items, household items, books, and other smaller items. The shipping cost is around $7 and the weight can go up to 70 lbs. Do not ship breakable or fragile items in a PFRE, they were not intended for breakables. The PFRE is a case of "when it fits it ships." Do not shove large items in these mailers just to save money. Consider what your buyer will think when receiving the item. Some sellers on YouTube have videos bragging about how much they can cram into these mailers — things like men's jeans, coats, or blankets. Not a good idea. Not only can envelopes burst open, but the buyer has the opportunity to rate the seller on eBay feedback regarding shipping.
Don't get a low rating because you shoved something in a mailer and the buyer though it was a cheap, tacky shortcut. 
The Tyvek Envelope
If the item must go Priority, and it won't fit in a PFRE, the next option is a Tyvek envelope. These are larger than PFREs, and are made of a paper and fiber material that is moisture-proof, durable, and flexible. The Tyvek is good for larger clothing items, linens, blankets, stuffed animals (plush), some handbags, and soft goods that won't crush. Use a Tyvek instead of a box when it makes sense. Boxes add weight, and weight adds to the cost of shipping. The objective on eBay is to provide fair, accurate, and cost-effective shipping so the buyer is not overpaying and you remain competitive with other sellers.
USPS Priority Boxes
If the item is too heavy for First Class, won't fit in a PFRE, or it doesn't make sense to use a Tyvek, the next option is a box. USPS offers a wide variety of boxes in all shapes and sizes. If you are new to eBay and just learning shipping, avoid Flat Rate boxes. They are confusing at first (because there are so many options) and they are not always the best deal for the buyer, especially if the buyer ends up living close to you. Again, the objective is to remain competitive and keep shipping fees cost-effective. You may alter the regular Priority boxes, also known as Frankensteining, but you may not alter Flat Rate boxes because the fee has been determined based on a specific size. Cheap shipping shortcuts can negatively impact your business — make sure you are using USPS supplies correctly.
Pack Everything Carefully
If you are new to eBay, you are probably new to packing items for shipping. There are thousands of great videos on YouTube about how to ship virtually anything. For example, maybe you are selling a:
Lamp
Vacuum cleaner
Rug
Christmas ornaments
Dishes
Glassware
Art
Framed items
Oversized plush
Set of golf clubs
Poster
There is probably a video for it on YouTube. Do a little searching before you start to panic!
Summary — The eBay Shipping Workflow
Here is a quick summary of the thought process when shipping an item on eBay.
How much does it weigh?
If under 16 ounces, ship First Class.
If over 16 ounces, including packages, it must go Priority.
If Priority, will it fit in a Padded Flat Rate Envelope, and does it make sense to ship it that way?
If Priority, and too big for a PFRE, will it fit in a Tyvek, and does it make sense to ship it that way?
If over 16 ounces, and the item won't fit in a PFRE or Tyvek, or it doesn't make sense to ship it that way, use a box. 
Download this free eBay Shipping Flow Chart and post in your work area to refer to as needed. It takes a little while to get the hang of shipping, but with practice you will be a pro in no time. Remember, print your shipping labels directly from your eBay shipping workflow. No need to go to the post office. Your mail carrier can pick them up right from your door.