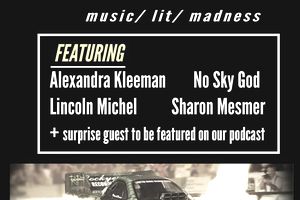 Cool as F*** is a new literary series that combines musical performance and standup comedy into the reading series format. Announced featured writers and musicians appear alongside a surprise showcase artist. The showcase artist will be profiled in a separate podcast.
Cool as F*** is hosted by Bill Lessard (McSweeney's, NPR, Prelude, People Holding) and Bud Smith (The Rumpus, Hobart, Vol. 1 Brooklyn).
Rachel Sherman: Where did you get the idea for the reading series?
Bill Lessard: Cool as Fuck wants to rock out with the most fun, challenging and interesting writers, artists and musicians on the NYC scene. We got the idea for the series after realizing what a blast it would be to gather all the great creative folks we've met into one place.
What makes it different than other reading series?
We want to showcase a diversity of voices and talents. Cool as Fuck won't be just a bunch of writers sharing their work. It will be writers, artists, and other creative people rocking out with bands, doing comedy, screening short films. We're shooting for nothing less than a literary variety show that celebrates the finest, most challenging creative work being done. Our performers will be a mix of people from the top outlets with up-and-comers who are just breaking through. To add an element of surprise, each month's spotlight artist will remain a secret the night of the performance.
What do you hope it will bring to the lit community?
"Great on the page, great on the stage"—that's our unofficial motto and guiding principle. We want to put the rest of the scene on notice to up its game. There will be no mumbling sad poetry from your iPhone.
We work hard on our writing. We want to go out there and bring the joy of the work to a broad range of people, not just other writers, and artists.
Tell us about the podcast.
We want to stand the Marc Maron long-form podcast model on its head. The Cool as F*** podcast will be a mini-interview with each month's showcase artist. We'll pick three questions that we've been dying to ask the person and go from there. Each episode will be brief, fun and to-the-point.
What are the details (ie: times, etc)?
Cool as F***

When?
1/21/16, 6:30-8pm

Where?
Pete's Candy Store
709 Lorimer St.
Brooklyn, New York 11211
Readers: Alexandra Kleeman (You Too Can Have a Body Like Mine), Lincoln Michel (Upright Beasts), Sharon Mesmer (Greetings from My Girlie Leisure Place)
Music by: No Sky God (Stu Watson, Editor, Prelude, on guitar)
Plus: Super-surprise spotlight artist whose work has appeared in New Yorker, Tin House, etc.
Pete's Reading Series is
FREE - Every other Thursday at 7:30pm
Curated and hosted by Jillian Capewell and Brian Gresko
Over the course of 15 years, Pete's Reading Series has earned a reputation as Brooklyn's premier reading series, where today's literary icons and tomorrow's stars take the stage regularly.
"The most intimate reading space in Brooklyn. Think of a fine pre-war dining car with an endless supply of booze."
— Gary Shteyngart - author, Little Failure and Super Sad True Love Story
"Pete's Candy Store Reading Series is by far the best series in Brooklyn, at the best bar. It's the KGB of Brooklyn!"
— Joanna Yas - Editor, Open City Magazine and Books
"It has never been clear to me who Pete is, but there is no finer place to give - or hear - a reading in this city."
— Robert Polito - author, Savage Art
PAST AUTHORS 
Colum McCann, Jonathan Ames, Tom Beller, Lan Samantha Chang, Jennifer Egan, Hari Kunzru, David Lehman, Sam Lipsyte, Francine Prose, Said Sayrafiezadeh, Gary Shteyngart, Colm Toibin, Justin Torres, Hannah Tinti