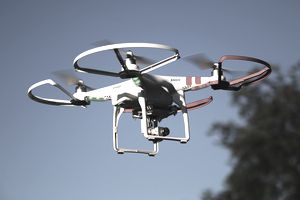 Is that a drone on your Christmas list? Thought so. And you're not alone - the FAA estimates that 1.6 million small unmanned aircraft will be sold in 2015 for use by hobbyists. It's the hottest gift of the season, and although it might seem like just a toy, it might actually come with an added (and unwanted) surprise - a brand new set of regulations! Beginning on December 21st, 2015, owners of unmanned aircraft systems that weigh in at above .55 pounds must register their UAS with the FAA, according to this Interim Final Rule.
 And yes, this includes that toy quadcopter you bought for your teenage kid who promises to keep it in the backyard. And the model rocket. (But not the paper airplane - they've clarified that for us.)  
Some of us are familiar with the FAA's processes, but for those of you who have no history dealing with the FAA, well… surprise! That new drone means you have another government boss to pay attention to. And you thought you were just getting a toy…
Alas, drones are no longer merely children's toys, and the FAA is taking them seriously, starting with the nomenclature.  What we – and the faintly hysterical media – call a drone, the FAA has now declared to be an Unmanned Aircraft System, which distinguishes it from other contraptions that get flung into, dropped through, or otherwise launched into the sky above us – such as a Frisbee or a paper airplane. (Yes, the FAA actually addresses paper airplanes in its FAQ section… I'm not making this up.) Along with this categorization comes a host of rules and regulations that new UAS owners may or may not be aware of.
So will your new UAS that Santa brings be subject to this registration requirement?  Incidentally, the FAA argues that this requirement is not new - that model airplanes that fly have always been considered airplanes and thus require registration. The new rule, an Interim Final Rule, effective 21 December, 2015, requires that UAS owners register with the FAA if the craft weighs more than 250 grams (.55 pounds) and less than 55 pounds (2.5 kilograms).
  Any UAS above that weight is considered to be subject to the regular aircraft registration process available through the filing of FAA form AC 8050-1. Most small UAS that are sold as toys for children will be lighter than .55 pounds, but not all of them.
An unmanned aircraft is, to paraphrase, an aircraft-like vehicle that can be flown through and navigated within the airspace under the control of a pilot not aboard the craft or by remote means.  The UAS includes the unmanned aircraft itself, along with all of the associated support equipment, control station, datalinks, telemetry, communications and navigation equipment necessary to operate the unmanned aircraft.
This new rule has the model aircraft community a bit concerned, whose members are dismayed to learn that its requirements pertain to their radio-controlled aircraft as well as to the many quadcopters and aerial photography platforms that are entering the market in large number.  In fact, anyone who already owns a UAS is now required to register it with the FAA and clearly mark its registration number on the aircraft prior to February 19th, 2016. If you buy yourself (or your kid) a drone for Christmas, you can fly it indoors all you want, but you must register it prior to its first outdoor flight.
(If you are younger than 13, you will need to find a gullible adult to register your drone in his or her name – and that adult will be responsible for any foolishness you commit, so you may want to warn them.) 
After registration, which costs $5, you'll get a registration certificate by email, and will be asked to write your assigned registration number directly on the UAS (a Sharpie will work just fine). You only need one personal registration number, even if you own multiple drones. Registration numbers can be cancelled when the drone transfers ownership, and the new owner would be responsible for registering personally with the FAA. For more information on how to register your UAS, visit the FAA's UAS Registration FAQ page.
As early as 1990, the FAA began planning for integration of unmanned aircraft into the National Air Space, pledging a process that would be safe, efficient, and timely.
  Here we are 25 years later and the FAA is now requiring registration of small unmanned aircraft systems, even those flown as a hobby or without commercial intent.  The IFR, or Interim Final Rule, is a vehicle by which an agency can skip the proposed rule step and issue a tentative, but immediately effective rule that is not expected to be contentious.  At recent count, more than 350,000 aircraft are registered with the FAA.  How the agency will cope with the additional registration of potentially hundreds of thousands of admittedly very clever children's toys remains to be seen. And how many owners of these aircraft choose to comply with the new rule is anyone's guess. UAS owners should be aware, however, that the penalties for non-compliance are significant, with civil penalties of up to $27,500 and criminal penalties of $250,000 and prison.