New Home Sales: Definition and Economic Indicator
You Can Predict Next Year's Housing Market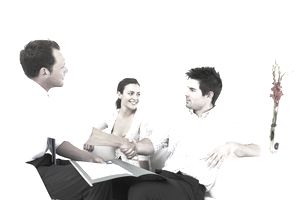 Definition: A new home sale is when the buyer signs the paperwork and gives the homebuilder a deposit. That's because most new homes are not constructed until there is a buyer. Usually, the buyer can customize all or part of the home's features. That includes countertops, floor coverings, and fixtures. 
The Census Bureau releases monthly estimates of new home sales.The sales figures are given as an annual rate.
That means if sales keep occurring at this rate, that's how many would sell in a year.
The Census Bureau also includes new spec homes in its sales figures, even though there is no buyer. These are usually model homes that the homebuilder uses to spur sales in the development. Spec homes are counted as new home sales once the permit has been issued, or construction has started. Here's where to get the data on New Home Sales.
The 4 Steps in Homebuilding
The new home sale is the first step in a nine to twelve-month process. If new home sales pick up, then you know closings will rise in about a year. However, all of the remaining three steps must be completed.
Permit - About 60 - 90 days after the paperwork is signed, the local housing regulators grant the permit. The Census Bureau provides this data monthly. City building authorities can get backed up if there is an onslaught of requests for new home permits.
That can slow the process down in some areas.
Start - A new home start  occurs when the builder breaks ground. It generally happens about two months after the home is  contracted for sale by the buyer and the permit is granted. It occurs around six months before closing. For this reason, it is a good predictive indicator of where the housing market supply will be in six months to a year.
The National Association of Home Builders reports on this monthly. The statistics are given by the homebuilders themselves. The start typically occurs three months after a new home sale. Therefore, starts confirm trends that first show up in new home sales.
It's not as early an indicator as new home permits, or new home sales, but it's more accurate. For example, builders can go bankrupt and never build the permitted units. They can change the number of units built in a multi-family. In fact, 22.5% of multi-family permits aren't built, or are changed to single-family units. Finally, developers often receive permits for a large portion of a complex that could take months and month to build. 
The new home start only occurs when the builder is confident enough to break ground. In addition, some areas (about 2.5% of the total) don't require permits before the builder starts. Here's more from the Census Bureau.
Statistics on new home starts are easily accessible, as they are measured by the U.S. Census Bureau. The report is released every month. Starts are broken down into national plus four geographic regions, and whether the building is single-family or multi-family apartment buildings.
 Here's the latest building starts statistics.  
New home starts tell you how confident builders are about construction. However, keep in mind that the higher this number, the greater the supply of housing. New homes are generally more attractive to buyers than resales. Therefore, if too many new homes are added, it can actually depress the price of resales. This hurts individual homeowners.
If homebuilders have trouble getting materials or labor, that could slow the process down. For example, in 2015 there was a small shortage of skilled construction workers. That's because many left the business during the Great Recession.  (Source: NAHB, New Home Sales)
Closing - This occurs about six to nine months after the start. The homebuyer must receive a mortgage before the home can close. If the homebuyer doesn't qualify, the house remains in inventory.
If this statistic is lower than the home sale figure, it means the new home market will start to slow down. There are too many homes being built, and not enough qualified home buyers. It can also mean builders will begin lowering prices to clear their inventories. Fannie Mae releases the report on all mortgages here. 
Other New Home Economic Indicators
Inventory - This is the total of homes that are available for sale, but unsold.  The NAHB reports this monthly. 
Months of Supply -  This is how many months it would take to sell all the houses in inventory. It's based on the sales rate and inventory.  The NAHB also reports this monthly.
Sales Prices - The Census Bureau reports on both the median and average new home sales price. Here's the latest release.
How to Use New Home Indicators.
Each of these indicators tells a little different story about the health of the homebuilding industry. For example, say home starts are steady, but housing starts decline. That will take a toll on home sales. Many buyers might not want to wait longer than a year. It also means there's a shortage of lumber, concrete, or construction workers. Those shortages could drive up costs, and sales prices. That would further decrease demand for new homes.
If mortgages are declining, the homebuilder will end up with an inventory of unsold homes for sale. It also means demand is high, but homeowners can't get mortgages. Rising home starts might seem like an indicator of housing strength. But it might be a bad sign. Declining home closings mean the housing market is weak.