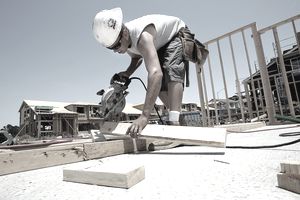 Definition: New home builders are companies that construct single family housing. They are an important contributor to the overall real estate market. In fact, new home construction is one of the components of GDP, our nation's economic output. The largest are production builders. They are national companies. They buy acres of land and subdivide them into plots. They build houses based on model homes.
In 2014, the top 10 largest production home builder were:
D.R. Horton
Lennar Corp.
Pulte Group
NVR Inc.
Toll Brothers
Taylor Morrison
The Ryland Group
KB Home
Standard Pacific Homes
Hovnanian Enterprises
The names on this list don't change, even those the ranking does. When these companies are doing well, so is the economy.  When their stock prices rise, it means the housing market is healthy.
There are also many custom home builders. They are usually local or regional companies. They will sit down with a buyer to construct a house to order. These homes are much more expensive. 
What New Home Statistics Tell About the Economy
Statistics about new home construction are important leading economic indicators. That means they will give you a heads up on the future of the housing market.
Here are the four most critical stages, what they tell you, and links to get the data:
New home sales occur when the buyer signs the purchase agreement.  
Building or zoning permits are usually granted two months later. These statistics give you an early glimpse into housing trends.  
New home starts are when the builder breaks ground, which is usually right after the permit is granted. It usually takes six to nine months to construct a new house.
Completed, usually nine to twelve months after the new home sale.
The U.S. Census counts housing built in a new, mixed-use building that combines commercial and residential uses. These often occur in downtown business districts that have retail on the first floor and apartments on upper floor.  However, it excludes from its statistics any homes built that are:
Group homes, such as dormitories, rooming houses and apartments.
Transient quarters, such as hotels, motels, and tourist courts.
Manufactured or mobile homes.
Buildings that have been moved or relocated.
New home construction in an existing structure.
Publicly-owned housing units.  The exception is if they are built by private developers using partial public subsidies. The other exception is if they are later sold to local public housing authorities under the HUD "Turnkey" program. (Source: U.S. Census New Home Construction)
How Home Builders Contributed to the Housing Boom and Bust
New home builders were hit hard by the recession. New home completions were at a record low in 2010. Only 506,000 homes were built. That was 30% less than the 1.7 million homes built at the height of the housing bubble in 2006.
It is easy to see why some blame overbuilding by new home builders for causing the housing bubble that led to the recession.
By August 2006, home prices had dropped for the first time in eleven years. The number of homes sold dropped to 6.3 million, and inventory rose - partly thanks to new home builders.
Why didn't they stop building? Most home builders, such as KB Homes, Pulte, and Centex, are public companies. They must increase earnings to drive up stock prices. Stock investors would not reward home builders that stopped building to avoid a bubble. So, to some extent, capitalism and free-market enterprise was partially to blame for the new home bubble.