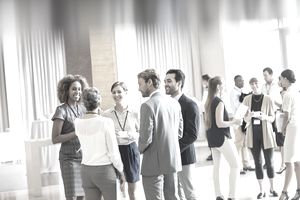 If you are like many people, the term "networking" conjures up images of business events where suit-clad individuals spend the evening with a beverage in one hand and a business card in the other. And, if you are like many people, the thought of having to spend your evening networking to promote your event planning business brings either a feeling of dread or a stomach full of butterflies. Or perhaps both.
Regardless of your personal thoughts on business networking, one thing is certain: networking is a low-cost marketing method that can effectively promote your event planning business.
How to Use Networking to Support Your Business Objectives
Networking is a valuable business tool that offers numerous benefits, including:
Promoting your event planning business
Gaining new clients
Meeting other event planning professionals
Low or no cost marketing
Fostering relationships with those that can offer expertise or support
In addition to promoting your event planning business, business networking also offers the opportunity to connect with other small business owners who face many of the same challenges.
High-Quality Leads!
Unlike other forms of marketing, referrals received through networking are typically quality referrals. So some of the hard work has already been done for you! The contacts you receive may be qualified leads so it is easier to follow up with these referrals and turn them into clients.
Attend Networking Events
Organized networking events are typically hosted by industry groups, business networking groups, or other organizations. This may take the form of an annual convention or a local industry gathering. These events are organized activities that are designed to provide attendees the opportunity to meet one another to share ideas and foster business relationships.
Networking events frequently feature a guest speaker, providing the opportunity to expand your knowledge on a given topic. Many networking groups meet on a regular basis, so take advantage of this valuable business tool to expand your business contacts and promote your event planning business.
Make a Connection
Stop thinking of networking as a formal process whereby you follow a set protocol of introducing yourself, giving your elevator pitch, and then closing with the presentation of your business card.
Instead, think of networking as making connections. After all, that really is what networking is all about.
Think of all the people in your life, both professional and personal.  Now think of all the people they know and come into contact with their lives. Mentally draw virtual lines between you, your contacts, and their contacts. This, in a nutshell, is what networking is.
Networking is simply making connections with other people who may have an interest in your event planning business, have something in common with your event planning business, or may have something to offer your event planning business.
Ask Questions
When you are networking, prepare to listen more than you speak. You can gain valuable information and insight by being a good listener.
Think about what you want to know about a particular business or person. Are you looking for a solution to a business problem?
When you meet someone, ask questions about their work and their experience. Follow up with pointed questions concerning something you want to know. This connection may lead to another connection to another individual who may be of value to you in your event planning business.
Networking Gets You Noticed
People associate a name with a face. If your face is a no-show at relevant business gatherings, your name — and that of your event planning business — will go unmentioned. Get out there. Regularly attend business networking events. Talk to other attendees. Share information.
This is how to start slowly establishing yourself as knowledgeable, resourceful, and helpful. Then, when someone is looking for an event planner for an upcoming event, your name and face will come to mind and you will have lead or a referral.
Networking Builds Your Confidence
As with many things in life, the more you practice, the better you become at something. This is true with networking. The more you speak to people you don't know, discuss your event planning business and who you are, the more comfortable you will become.
As you become more comfortable, your confidence grows. And greater confidence brings with it increased opportunities.
Networking Provides Support
Attendees at networking events are there because they want something. They may be looking for a lead that will generate increased sales. They may be seeking advice on how to handle payroll issues. Whatever the reason, everyone there is looking for help with something for their business.
But they are also there to help one another. Perhaps you know of a caterer who would be a great fit for an upcoming party. Perhaps someone you met can provide the name of their accountant who helps small business owners. Regardless of the individual situation, networking provides opportunities to connect with other people who can support you in your business.
Sometimes networking brings you together with someone that you enjoy having conversations with. Perhaps they are like-minded. Or perhaps they have experienced some of the challenges that you are experiencing in your event planning business. Maybe they are just easy to talk to.
These contacts can become part of a healthy, supportive network for your business. It is important to surround yourself with positive people who want to see you and your business grown and thrive.
Not Every Opportunity Is a Good Opportunity
As you network with other business professionals, opportunities will present themselves. For those just starting out in the event planning business, it may be tempting to jump at the first opportunity that presents itself. 
Be open to new ventures but consider thoughtfully whether the opportunities are right for your event planning business. Be sure they align with your business goals and your vision for your company.  Otherwise, it is valuable time spent involved in something that does not provide the reward.