NetQuote - A Helpful Tool for Finding the Best Insurance Rates
Company Overview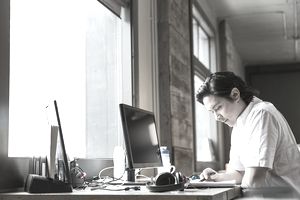 Consumers are confused when it comes to finding the best insurance policy. With online tools, it is becoming easier than ever before to get multiple insurance quotes for comparison.
One such insurance website is NetQuote. With NetQuote, customers can complete one form to get quotes from as many as five different insurance carriers. NetQuote offers quotes on multiple lines of insurance for help in finding individual health insurance, auto insurance, home, life, and business insurance.
This is an excellent tool for comparison-shopping for insurance.
NetQuote started operations in 1989 and has since that time provided millions of consumers with access to online shopping for insurance rates. When the company was founded by Keith Lawton and Harvey Lawton, it was called Telerate, Inc. In 1993, the company changed its name to Auto Insurance Shopper. In 2010, Bankrate acquired NetQuote Insurance. The company has partnerships with many top insurance companies including Allstate, State Farm, Nationwide, 21st Century, Liberty Mutual, and Travelers Insurance. The company claims to offer the insurance industry's largest agent network.
NetQuote Insurance has been a BBB accredited business since 2006. The Better Business Bureau rates Netquote Insurance with its highest "A+" rating. To receive an A+ rating, a company must resolve any customer complaints in a timely manner and to the customer's satisfaction.
During the last three years, NetQuote had 308 complaints. All complaints were closed satisfactorily.
The site is relatively easy to use. You complete one secure online application for the type of insurance policy you need. Within minutes, you will have multiple quotes from at least four insurance companies with a comparison of rates and plans.
Once you have your insurance quotes, you can request that the agent contact you or you can call the insurance provider when it is convenient for you.
Lead Generation and Lead Sharing
If you are wondering how the NetQuote lead generation process works on the agent side of things, it is an interesting process. The agent can use filters to select the type of leads they wish to see. Filters can be placed for types of policies, geographic filters, driving records, health conditions, and a number of other factors. By using these filters, agents can pre-select the type of risk they wish to insure.
One thing that you may not realize is that NetQuote has partnerships with other lead sharing companies such as InsureMe. What this means is that your information could be shared with more insurance companies than you wanted. A large number of agents could end up competing for your business. This is not always a bad thing. For one, the more agents that are competing for your business, the better price you may end up getting for insurance. It could, however, result in unwanted contacts through emails or phone calls.
Pros
NetQuote uses a secure application process which protects users private information.
The website is user-friendly.
It is easy to get multiple quotes in a short time-frame.
NetQuote has the highest possible rating from the Better Business Bureau.
Cons
Of all the BBB complaints listed, the highest number was in areas of customer service.
Some consumers have complained that NetQuote uses their names as leads for sponsor companies even after they have requested their names be removed from its database.
Data entered into the NetQuote site may result in unwanted contacts through emails and phone calls.

 
Contact Information
Customers can receive insurance comparison quotes from the NetQuote Insurance website. For questions, users can call (800) 795-2886.