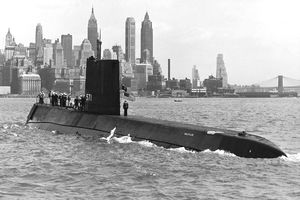 The Fire Control Technician (FT) is responsible for all operational and administrative aspects of the submarine's computer and control mechanisms used in weapons systems and related programs (including all Submarine LAN systems). You cannot enlist with a guarantee for this rating. Instead, you enlist in the Navy's Submarine Electronics/Computer Field (SECF). Following Enlisted Basic Submarine School (BESS) and the first portion of the Submarine Learning Center pipeline course, you are assigned to be trained as ET-COM, ET-NAV, FT, or STS.
Your rating is determined by your preferences, scores received in the above two schools, and the "needs of the Navy."
Duties performed by FTs include:
operate submarine combat control systems;
test submarine combat control systems;
operate and maintain combat control systems associated systems;
participate in weapons handling functions and operate and maintain non-tactical computer systems and peripherals
Working Environment
Duties in this rating are usually performed aboard submarines. Submarine Electronics/Computer Field personnel usually work indoors in a clean, controlled environment with comfortable temperatures. However, some work is required in a clean or dirty environment of a shop-like nature. Their work may be independent in nature, but they usually work closely with others under direct supervision.
A-School (Job School) Information
Groton, CT --18 weeks (Submarine Learning Center)
Note: The Submarine Learning Center includes Apprenticship Technical Training, Tactical Computer Network Operations, or TCNO, and FT "A-School." Some students may be selected for advanced training ("C-Shool,") prior to shipping out to the fleet
ASVAB Score Requirement: AR+MK+EI+GS=222 or VE+AR+MK+MC=222
Security Clearance Requirement: Top Secret
Other Requirements
Must be U.S. Citizen
Most have normal color perception
Must have normal hearing.
Must volunteer for submarine duty
Must have no record of conviction by civil court for any offense other than minor traffic.
Moral turpitude offenses are generally disqualifying.
No history of drug abuse.
This job (like all submarine jobs) is closed to women
Sub-Specialties Available for This Rating: Navy Enlisted Classification Codes for FT
Current Manning Levels for This Rating: CREO Listing
Note: Advancement ( promotion ) opportunity and career progression are directly linked to a rating's manning level (i.e., personnel in undermanned ratings have greater promotion opportunity than those in overmanned ratings).
Sea/Shore Rotation for This Rating
First Sea Tour: 48 months
First Shore Tour: 36 months
Second Sea Tour: 42 months
Second Shore Tour: 36 months
Third Sea Tour: 36 months
Third Shore Tour: 36 months
Fourth Sea Tour: 36 months
Forth Shore Tour: 36 months
Note: Sea tours and shore tours for sailors that have completed four sea tours will be 36 months at sea followed by 36 months ashore until retirement.
Much of the above information courtesy of the Navy Personnel Command