Navy Enlisted Rating (Job) Descriptions
Cryptologic Technician - Maintenance (CTM)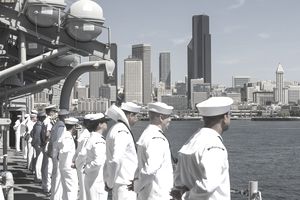 The Cryptologic Technician Maintenance branch offers a career in the installation, configuration, diagnosis, and repair of state-of-the-art electronic, computer, and network hardware and software systems.
The duties performed by CTMs include:
perform hardware and software isolation and repair of state-of-the-art electronic, computer and network equipment and related systems using complex test and analysis equipment, diagnostic software, hand tools and technical publications;
perform computer and electronic system hardware and software installation, configuration and modification;
analyze the configuration and monitor the operation of computer telecommunications and networking systems;
calibrate and repair a wide variety of precision electronic test equipment;
perform information security and computer network defense functions for secure networks and communication systems;
maintain fleet cryptologic permanent and carry-on direct support systems required in special land, sea surface and subsurface operations.
Working Environment
CTM are assigned to equipment installation activities, electronic maintenance, and computer networking system departments and divisions. They may be assigned to either day work or shift work in a large facility or one of the individual or two-person independent duty assignments at sea or ashore. Departments and divisions are usually divided into specialized maintenance shops and are normally air-conditioned, well-lighted, and completely equipped.
A-School (Job School) Information
Correy Station, FL -- 121 calendar days
ASVAB Score Requirement: MK + EI + GS = 156 + AR = 218 Minimum MK = 57 Minimum AR = 57
Security Clearance Requirement: Top Secret (Single Scope Background Investigation Required)
Other Requirements
72-month enlistment obligation
Must be a U.S. Citizen
Immediate family members must be U.S. Citizens
Moral turpitude offense(s) are generally disqualifying
Personal security screening interview required
Former members of the Peace Corps are not eligible
Candidates must be a high school graduate or equivalent (GED, CPT, home study or other equivalency). If not a diploma graduate, applicant must provide a high school transcript verifying successful completion of the 10th grade.
Sub-Specialties Available for This Rating: Navy Enlisted Classification Codes for CTM
Current Manning Levels for This Rating: CREO Listing
Note: Advancement ( promotion ) opportunity and career progression are directly linked to a rating's manning level (i.e., personnel in undermanned ratings have greater promotion opportunity than those in overmanned ratings).
Sea/Shore Rotation for This Rating
First Sea Tour: 48 months
First Shore Tour: 36 months
Second Sea Tour: 36months
Second Shore Tour: 36 months
Third Sea Tour: 36 months
Third Shore Tour: 48 months
Fourth Sea Tour: 36 months
Forth Shore Tour: 48 months
CTMs are detailed according to billet and relief availability. Most PCS afloat tours are 48 months for those with NECS of 9224, 9225, and 9289.
CTM 9229 requires 60 months of sea duty obligation following initial skills training.
Much of the above information courtesy of the Navy Personnel Command