Navy Enlisted Rating (Job) Descriptions
Aviation Structural Mechanic - Equipment (AME)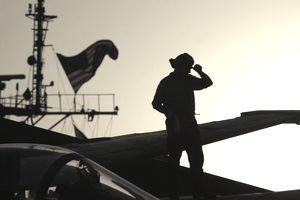 The Aviation Structural Mechanic - Safety Equipment (AME), maintains and repairs utility systems throughout the aircraft. They work on systems such as air conditioning, heating, pressurization and oxygen, plus multiple safety devices. These technicians may also volunteer to fly as Naval aircrew. Aircrew performs numerous in-flight duties and operates aircraft systems in turbojet, helicopter, or propeller aircraft.
The duties performed by AMEs include:
maintain the various aircraft systems such as seat and canopy ejection (egress), gaseous and liquid oxygen, life raft ejection, fire extinguishing, air conditioning, cabin and cockpit heat, pressurization, ventilation;
remove and install oxygen system valves, gauges, converters and regulators;
Inspect, remove, install and rig ejection seats, shoulder harnesses, lap belts and face-curtain mechanisms;
perform daily, preflight, postflight and other periodic aircraft inspections.
Working Environment
Aviation structural mechanics may be assigned to sea or shore duty any place in the world, so their working environment varies considerably. They may work in hangars or hangar decks or outside on flight decks or flight lines at air stations. A high noise level is a normal part of their environment. AMEs work closely with others, do mostly physical work and require little supervision.
AMEs may also serve as flight engineers aboard certain aircraft.
A-School (Job School) Information
Pensacola -- 44 calendar days
Pensacola -- 8 calendar days (only some recruits will attend this course)
ASVAB Score Requirement: VE+AR+MK+AS =210 OR VE+AR+MK+MC = 210
Security Clearance Requirement: None (except for those who volunteer for aircrew duty)
Other Requirements
Vision must be correctable to 20/20
Must have normal color perception
Must have normal hearing
Must be high school graduate.
No history of drug abuse.
Sub-Specialties Available for This Rating: Navy Enlisted Classification Codes for AME
Current Manning Levels for This Rating: CREO Listing
Note: Advancement ( promotion ) opportunity and career progression are directly linked to a rating's manning level (i.e., personnel in undermanned ratings have greater promotion opportunity than those in overmanned ratings).
Sea/Shore Rotation for This Rating
First Sea Tour: 54 months
First Shore Tour: 36 months
Second Sea Tour: 42 month
Second Shore Tour: 36 month
Third Sea Tour: 36 month
Third Shore Tour: 36 month
Fourth Sea Tour: 36 month
Forth Shore Tour: 36 month
Note: Sea tours and shore tours for sailors that have completed four sea tours will be 36 months at sea followed by 36 months ashore until retirement.
Much of the above information courtesy of the Navy Personnel Command