Navy Enlisted Rating (Job) Descriptions
Aviation Boatswain's Mate - Fuels (ABF)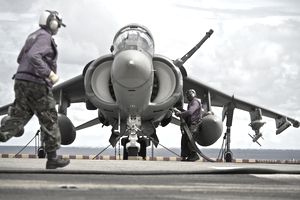 Aviation Boatswain's Mates play a major part in launching and recovering naval aircraft quickly and safely from land or ships. This includes aircraft fueling and fuel systems. Later in their careers, ABs can earn the advanced AB rating that requires supervision of all these individual specialties.
The duties performed by ABFs include:
operating, maintaining and performing organizational maintenance on aviation fueling and lubricating oil systems on CVs, CVNs, LPHS and LPDS;
observing and enforcing handling safety precautions and maintaining fuel quality surveillance and control in aviation fuel systems;
supervising the operation and servicing of fuel farms and equipment associated with the fueling and defueling of aircraft ashore and afloat;
training, directing and supervising fire fighting crews, fire rescue teams, and damage control parties in assigned fuel and lubricating oil spaces.
Working Environment
Most of the work in this rating is performed outdoors on the deck of aircraft carriers, in all climatic conditions, in fast-paced and often potentially hazardous environments. ABs work closely with others in aviation ratings.
A-School (Job School) Information
Pensacola, FL -- 36 calendar days
ASVAB Score Requirement: VE+AR+MK+AS =184
Security Clearance Requirement: None
Other Requirements
Must have normal hearing (see below)
Frequencies: 3000hz 4000hz 5000hz 6000hz. Average hearing threshold level in these four frequencies must be less than 30db, with no level greater than 45db in any one frequency. If hearing level exceeds these limits, the applicant is enlistment ineligible for the rating.
No exceptions.
Sub-Specialties Available for This Rating: Navy Enlisted Classification Codes for ABF
Current Manning Levels for This Rating: CREO Listing
Note: Advancement ( promotion ) opportunity and career progression are directly linked to a rating's manning level (i.e., personnel in undermanned ratings have greater promotion opportunity than those in overmanned ratings).
Sea/Shore Rotation for This Rating
First Sea Tour: 60 months
First Shore Tour: 36 months
Second Sea Tour: 60 months
Second Shore Tour: 36 months
Third Sea Tour: 48 months
Third Shore Tour: 36 months
Fourth Sea Tour: 48 months
Forth Shore Tour: 36 months
Note: Sea tours and shore tours for sailors that have completed four sea tours will be 36 months at sea followed by 36 months ashore until retirement.
ABF is a sea-intensive community. Manning conditions at sea may require the need to request sea tour extension or shore tour curtailments to ensure all sea duty billets are filled.
Much of the above information courtesy of the Navy Personnel Command