Motivational Quotes from Winning Sports Heroes, Superstars and Coaches
Pat Riley, Mario Andretti, Other Famous Sports Celebrities' Quotable Quotations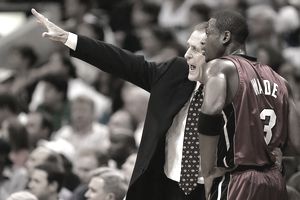 Winning is winning. Motivation is motivation. Coaches are coaches. So when leaders from the retail industry - or any industry - are looking for quotable quotes to motivate their teams, looking to winning and famous sports heroes, superstars, and coaches is a logical place to start.  
The accomplishments of these modern day super achievers can serve as a reminder of what's possible. The words of these superstars can provide a glimpse at the thought process and beliefs of a winner.
 Retail managers at all levels can use these quotations to inspire themselves, and motivate their employees to think bigger, try harder, and reach a higher goal.
Words of Wisdom About Motivating Others
Authorities from many fields will argue that it's not possible to motivate anyone but yourself because true motivation comes from within. Perhaps motivation is an internal event, but it something that can be triggered by an external force. Whether it's called connection, inspiration, preparation, recognition, empowerment, or bribery, "motivation" by any other name is a real phenomenon and a constant challenge.
When expressing their opinions about motivating others, some of the world's most successful sports heroes, superstars, and coaches not only thought it was possible, they expressed the belief that it was absolutely necessary. Any retail leader who is responsible for guiding the performance of a team can find help in the quotes from some of history's most famous leaders and achievers about motivating others.
Motivation Is Just a Thought Away
It's difficult, if not impossible, for retail leaders to motivate others without having a high level of motivation themselves. No matter how generally positive a manager is by nature, all leaders find themselves in a motivation slump from time to time. Sometimes fresh inspiration is just a thought away.
What follows is just such inspiration from a fresh perspective.  Finding the metaphorical relevance between sports and business is easy.  Learning and living the leadership lessons and mastering the managerial motivation methods is not always so easy.  Read and share these quotable quotes from some of the greatest legends in sports, and then click the links for more motivational quotations appropriate for business leaders, teams and engaged workplaces at the bottom of the page.
Quotes About Motivation From NBA Basketball and Pat Riley
Some love him some hate him, but personal preferences aside, there's no denying that Pat Riley knows something about motivation. As an NBA basketball coach, he helped six teams win NBA championship titles, an accomplishment that shows that Riley knows how to keep a group of people constantly motivated.
Here's what Pat Riley believes to be true about leadership and motivating a team of champions:
"There's always the motivation of wanting to win. Everybody has that. But a champion needs, in his attitude, a motivation above and beyond winning."
"Being a part of success is more important than being personally indispensable."
"You have no choices about how you lose, but you do have a choice about how you come back and prepare to win again."
"To have long term success as a coach or in any position of leadership, you have to be obsessed in some way."
"If you have a positive attitude and constantly strive to give your best effort, eventually you will overcome your immediate problems and find you are ready for greater challenges."
Motivating Quotes From Indy Auto Racing and Mario Andretti
Mario Andretti is one of the most successful drivers in the history of American auto racing. He was named Driver of the Year in three decades, he won IndyCar races in four decades, and he was the first driver to win a professional auto race in each of five decades. If you ever feel like you're just running around in circles, you can get inspiration from a man who did that very thing with a mastery that was unprecedented and still remains unmatched.
Here's what Mario Andretti had to say about motivation and success:
"Desire is the key to motivation, but it's determination and commitment to an unrelenting pursuit of your goal -- a commitment to excellence -- that will enable you to attain the success you seek."
"Circumstances may cause interruptions and delays, but never lose sight of your goal."
"Do it no matter what. If you believe in it, it is something very honorable. If somebody around you or your family does not understand it, then that's their problem. But if you do have a passion, an honest passion, just do it."
"If everything seems under control, you're just not going fast enough."
Motivational Quotes From Record-Breaking Celebrities of Professional Sports:
"I don't believe in team motivation. I believe in getting a team prepared so it knows it will have the necessary confidence when it steps on a field and be prepared to play a good game." - Tom Landry, Founding Coach of the Dallas Cowboys who led the team to 20 consecutive winning seasons, 19 NFL playoffs, five Super Bowl appearances, and two Super Bowl wins in 29 seasons. 
"Once you've wrestled, everything in life is easy." - Dan Gable, Legendary Wrestling Champion with a college record of 181-1 and an Olympic Gold Medal, which he won without surrendering a single point.
"You've got to love what you're doing.  If you love it, you can overcome any handicap or the soreness or all the aches and pains, and continue to play for a long, long time." - Gordie Howe, Hockey Superstar for 33 years, in the Top 5 for Scoring in the NHL for 20 consecutive seasons
"Every strike brings me closer to the next home run." - Babe Ruth, Baseball Superstar who broke records for both pitching and hitting, and an inaugural inductee into the Baseball Hall of Fame
"It is very important not to think about losing." - Venus Williams, Winner of seven Grand Slam titles, four Olympic Gold medals, and the first African American woman to be ranked #1 in U.S. professional tennis
"Impossible is just a big word thrown around by small men who find it easier to live in the world they've been given than to explore the power they have to change it. Impossible is not a fact. It's an opinion. Impossible is not a declaration. It's a dare. Impossible is potential. Impossible is temporary. Impossible is nothing." - David Beckham, Iconic soccer player for Great Britain and the U.S.
More Motivational Quotes for Leaders and Teams in Business: