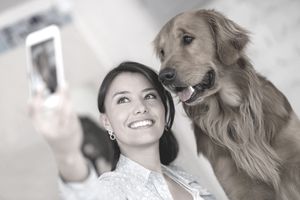 Apps are extremely popular in today's digital marketplace, and the pet industry is certainly feeling the growing influence of this technology. Many pet businesses have developed companion apps to work in conjunction with their websites, and some entrepreneurs have created stand-alone apps that are businesses in and of themselves.
While the pet app market is well populated, there is certainly still room for new app development (even in the more popular categories).
Here are some of the most popular app types that are currently dominating the digital segment of the pet industry.
Digital Pet Records
Digitized pet records have become quite popular in the past few years, and the convenience of having easy access to a pet's information can be invaluable to busy owners. There are many competing apps in this space that offer varying levels of detail and accessibility. One such product is the Pet Partner App, a service that coordinates with your vet, boarding kennel, and groomer to make booking appointments quick and easy. The app also offers appointment reminders, saves the pet's history, stores photos, and organizes any notes from your pet service providers. 
Social Media for Dogs
Dogbook bills itself as Facebook for dogs, boasting a "community" of over 3 million canines in its worldwide network. This social media outlet is really designed for pet owners, of course, playing the part of their canine companions online.
 Dogbook allows users to share photos, check in at dog parks, and "find friends" to coordinate pet play dates.
Activity Trackers for Dogs
FitBark is an activity monitor for dogs with a very similar interface to Fitbit, the very popular human activity tracker. FitBark also offers customized service options for boarding kennel operators, dog trainers, and other pet service providers.
There are several different GPS activity monitoring apps in this area of the market.
Pet-Friendly Hotel Reservations
Bring Fido is an app that helps owners find dog friendly accommodations and venues with a few simple clicks. Owners are able to book hotels directly through the app or speak with a pet concierge to arrange travel. There are several competitors in regional markets, but Bring Fido has cornered the largest share of this space on a national scale.
Pet Monitoring Devices
Pet monitoring devices are also becoming quite popular, incorporating a variety of options such as video, audio, and GPS elements (plus some models even dispense treats). PetCube is one major player in this field that received a great deal of press after being successfully funded through a Kickstarter campaign.  PetCube is a Wi-Fi camera device that pairs with a mobile app to allow an owner to view and speak to their pet remotely. These pet monitoring devices also have become popular with dog boarding facilities, and a growing number of these service providers are utilizing this technology to give owners peace of mind when they are away from their pets.
Dog Walking on Demand
Zingy, Swifto, and Wag! are some of the Uber-style services that provide dog walkers on demand.
These services boast that they can send a dog walker to the client's home within a specific lead time (usually between 30 minutes to 2 hours after the request is initiated). Most dog walking apps allow owners to track a dog's progress using GPS, allow for secure online payments via credit card, and provide a report detailing to success of the walk (i.e. whether or not Fido did his "business" while out and about).
AirBnB Style Pet Sitting
There are several AirBnB style options for dogs like DogVacay (an on demand pet sitting app) or DoggyBnB (an app that networks with your friends and their connections to locate a sitter with a personal connection to you and your pet). 
Final Word
While there are many competing pet apps, there will always be room for new products that have an innovative spin or offer a previously unavailable feature.
The popularity of apps is only expected to grow, so this could be a great space to investigate if you have an interest in pets and mobile development.