Learn About USMC Recon
Marine Corps Enlisted Job Descriptions: USMC MOS 0321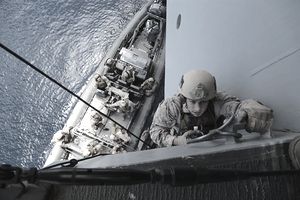 Marine RECON recruiting is at an all time high and is strongly rebuilding its numbers after the creation of MarSOC recruited many RECON members away from the Force RECON.  You can transfer into the RECON course from other MOS's in the Marine Corps or you can enlist using the UZ contract which guarantees a chance at the Basic RECON Primer Course if you meet the standards.
A RECON Marine has the MOS of 0321 and has several months of challenging training in order to earn the distinction of wearing the Marine gold jump wings and Marine SCUBA pin on his uniform.
Typically if you are enlisting into the Marine Corps, a recruit can request a direct pipeline to the RECON course but he must first graduate the following schools:

Marine Corps Boot Camp - Complete boot camp with a 1st class PFT score and you can move onto the School of Infantry (SOI). 

Marine Corps School of Infantry - Infantry Training Battalion is a 59 day course. An UZ contract holder must attend the SOI.  Also SOI graduates who volunteer and meet the standards can attend the Basic RECON Primer Course.

Marine Corps Basic RECON Primer Course (BRPC) - Primer is five weeks long and is the hardest physical and mental challenge of becoming a RECON Marine.  Most people quit the Primer - even though the mission of the Primer is to prepare you for the Basic RECON Course.  Consider the Primer as your selection challenge to becoming a RECON marine. 

Marine Corps Basic RECON Course (BRC) - The Basic RECON Course is nine weeks long and has three phases that challenge Marines to their fullest, both physically and tactically.
  Phase 1 focuses on Marine individual physical skills such as running, high repetition PT, obstacle courses, ocean swims with fins, rucking, land navigation, helicopter rope suspension training, communications and supporting arms. But after the Primer, you will be ready for this phase.   Phase 2 focuses on the tactical mission.
  Small unit tactics, mission planning and several day full mission profile exercises are included.  Phase 3 focuses on the maritime mission and you learn to conduct amphibious recon, boat operations, and small boat navigation.
For more details about the MOS 0321 RECON Marine:
Type of MOS : PMOS
Rank Range: MGySgt to Pvt
Job Description: The reconnaissance man is responsible for providing the amphibious, long range, small unit, ground reconnaissance and raid skills to support the MAGTF. He is the nucleus of a reconnaissance team in the reconnaissance battalion or the reconnaissance or assault team in the Marine Special Operations Company (MSOC's)
In addition to basic infantry skills, the RECON Marine is responsible for highly refined scouting and patrolling skills. He must possess advanced proficiency in scout swimming, small boat operations, close combat skills, airborne, surface and sub-surface insertion and extraction techniques, assault climbing, demolitions, forward observer procedures for supporting arms, initial terminal guidance operations for heliborne assaults, airborne insertion operations, and various waterborne operations.
The RECON qualified Marine specializes in communications, photography, threat weapons and equipment recognition, and various types of point, area, and related necessary overlap of ground amphibious reconnaissance operations.
Marines assigned to assault teams possess advanced skills in assault weaponry, breaching demolitions, close quarter battle skills and raid techniques. Selected reconnaissance men are further trained as static line and free-fall parachutists and combatant divers.
Noncommissioned officers are assigned as reconnaissance and assault team leaders or their assistants and may be qualified as static line and free-fall jumpmasters, dive supervisors, helicopter insertion/extraction masters (HRST), and tandem offset resupply delivery system (TORDS) operators.
Job Requirements:
(1) Must possess a GT score of 105 or higher.
(2) Must possess a first class swimmer qualification.
(3) Must obtain a first class score on the PFT.
(4) All Marines, to include non-infantry desiring lateral move, must successfully complete the Marine Rifleman Course of instruction prior to attending the Basic Reconnaissance Course.
(5) Assigned as a primary MOS to MGySgt and below 03XX Marines by CMC (MM) and Reconnaissance OccFld Manager (PP and O Code POG), and approved lateral-move Marines from any other MOS, who graduate from the Basic Reconnaissance Course (BRC).
(6) Must be a U.S. citizen.
(7) Must be eligible for a secret security clearance.
(8) Must be medically qualified to perform jump and combatant dive qualifications.
Related Marine Corps Jobs:
(1) Rifleman, 0311.
(2) LAV Crewman, 0313.
(3) Machine Gunner, 0331.​
(4) Mortarman, 0341.
(5) Infantry Assaultman, 0351.
(6) Antitank Missileman, 0352.
(7) Infantry Unit Leader, 0369.