Money In Your 50's: Time To Play Catch Up
If You Feel Like You Are Falling Behind, Now Is The Time To Get On Track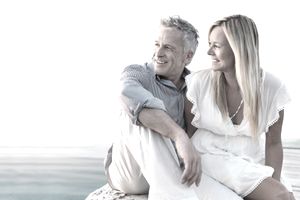 Just like in your 40's, there's never a bad time to sit down and map out a plan to accomplish and identify your financial goals.  Among the things you'll want to consider are retirement, education for the kids, funds for a business, and your tolerance for investment risk. If you find yourself falling behind the curve, now is the time to play catch up.  You don't want to be a scary retirement statistic, so whether that means catching up or planning to work longer, now is the time to figure it all out.
  Remember, these are you peak earning years and it's time to take advantage of them. 
Simple 50's Plan
It's time to put together your simple 50's plan.  You'll want to both build upon the good work you put in during your 20's, 30's, and 40's, as well as catch up in the areas in which you might be a little behind.  Remember to include the following eight areas in your plan: 
1.  A great time to play catch up.   At this point, you will hopefully be sucking funds away every month and every year into your 401k and IRAs.  If you find yourself behind the savings curve, check this chart for "catch up" contributions allowed by the IRS to increase your savings limits. 
2.  Work longer.  Unfortunately only about 1 in 5 Americans really "love" their job, so working longer may make you cringe.  If you're in this 20%, then working longer shouldn't be a problem.  But for everyone else who is not excited about this prospect, remember that working a few extra years can make all the difference in the world.
  In your late 50s or early 60s, working a few extra years not only boosts savings, it delays tapping into your nest egg for income. 
3.  Autopilot.  By now, the autopilot button should be fully engaged in the "accumulation phase – part III."  Right now, you still don't worry about the distribution phase, as that will come later in life once your nest egg is built.
  Continue saving 10% of your gross income as a minimum goal, but doing 15% or even 20% would really make this decade (accumulation phase – part III) work for you.  Remember, the earlier you get started the longer funds will have to compound.  Here's the order:
*401k (up to the match)
*ROTH or Traditional IRA maximum
*401k (up to the maximum if possible)
*After tax accounts
4.  4 Keys:  Diversify, allocate assets, and keep fees and taxes low.  The easy answer here is Exchange Traded Funds (ETFs).  ETFs are an investment vehicle that can accomplish all 3 of these goals. 
Some examples (please note these are not recommendations) are:
*U.S.: Vanguard's Total Market Index VTI.
*Internationally: iShares MSCI EAFA (EFA).
*Fixed Income: Vanguard's Total Bond Index BND iShares Investment Grade Bond ETF (LQD). 
*For true inflation hedges:  The iShare TIP (inflation protected treasuries) and GOLD which can ba accessed through the SPDR ETF symbol GLD.
5.  Seek help.   Now would be a good time to engage a fee-only, certified financial planning professional.  Fee-only advisors should be product agnostic and completely objective in helping you choose the best vehicles and strategies to accomplish your goals.
  Working with a CFP® professional will again increase the odds that you are working with someone who subscribes to the investment industry's highest code of business ethics, conduct, and education.  Your CFP® practitioner should be able to quarterback your investment and risk tolerance needs, as well as partnering you with the right tax professional (CPA), estate planning attorney for your wills and trusts, and an insurance professional that will help you with life and disability insurance.  
6.  Healthcare & long term care.  For healthcare, make sure you put some contingency plans into place to have healthcare costs covered before you qualify for Medicare at age 65.  Now is also the time to look into long-term care insurance.  This could cost several thousand dollars per year, but will only get more expensive with age.
  It's important here to do your homework, shop around, and pay close attention to all the benefits and riders that may (or may no) be included. 
7.  Own your age in bonds.  The founder of Vanguard funds John Bogle has an informative rule of thumb when it comes to what you should own in your retirement portfolio.  It doesn't have to be followed to the letter but should be considered.  If you are 50 years old, think about owning close to half of your portfolio in various types of fixed income (government, corporate, and/or municipal - depending on your tax bracket).
8.  Estate & will.  Drawing up your estate and will is not necessarily an enjoyable task, but it will be less painful than you think and will mitigate the possibility of a big mess. This is your chance to make sure your children are appropriately and fairly treated and will help to eliminate family squabbles in what will already be a difficult time for them.  For certain estate sizes, it will also help your family avoid paying unnecessary estate (death) taxes.
Have you put your simple 50's plan in place yet?  Remember, this is the decade to build upon your good work in the previous decades.  It's also a great time to play to play catch up if you're feeling a little behind.  
Disclosure:  This information is provided to you as a resource for informational purposes only.  It is being presented without consideration of the investment objectives, risk tolerance or financial circumstances of any specific investor and might not be suitable for all investors.  Past performance is not indicative of future results.  Investing involves risk including the possible loss of principal.  This information is not intended to, and should not, form a primary basis for any investment decision that you may make. Always consult your own legal, tax or investment advisor before making any investment/tax/estate/financial planning considerations or decisions. 
Wes Moss is the Chief Investment Strategist at the financial planning firms Capital Investment Advisors and Wela. He is also the host of the Money Matters radio show on WSB Radio.  In 2014, Moss was named one of America's top 1,200 financial advisors by Barron's Magazine. He is the author of several books including his most recent, You Can Retire Sooner Than You Think  - The 5 Money Secrets of the Happiest Retirees, which has been one of Amazon's best-selling retirement books in 2014.