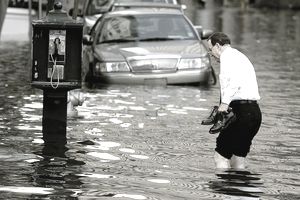 How much damage do Mississippi River floods cause, and how do they affect the economy? What can be done to prevent further worsening floods?
2011 Flood
Damage from the 2011 flood made the communities along the River more vulnerable to future floods, according to the U.S. Army Core of Engineers. The Core received $802 million from Congress in December to identify and repair the weakest areas. (Source: "Flood Damage in 2011 May Make 2012 Worse Along Mississippi River," Insurance Journal, January 12, 2012.)
Gene Rench of the National Weather Service called the 2011 Mississippi River flood a 500-year event. Army Corps spokesman Bob Anderson said, "There's never been a flood of this magnitude on the upper Mississippi." Heavy snowmelts, three large rainstorms, and April's tornadoes triggered flooding from the Ohio River, as well.
Total economic damage estimates could reach several billion. Why? The Mississippi River runs past farmlands and cities in six states. Resident worried that the flood's greatest damage would come in late May. That's when it would reach New Orleans, still recovering from Hurricane Katrina. City officials opened the Morganza Spillway, saving the City of New Orleans, but flooding farmland and homes that lay in the path.
The Army Corps of Engineers estimated it would cost $2 billion to repair the damage caused by the 2011 flood. Here is an estimate of the damage by state:
River barge traffic, transporting billions in crops, were delayed. Riverboat casinos were closed for 6-8 weeks ($14 million).
Estimates of farmland crop damage were as high as $2 billion (Fortunately, farmers usually have crop insurance.)
Missouri - 130,000 acres, 100 homes, and 300 people were flooded, costing $300 million.
Kentucky - More than $5 million in damage.
Memphis TN - Levees protected the downtown, although 1,300 homes in outlying areas were flooded.
Arkansas - Flooding added more struggles to the $200 billion catfish industry.
Mississippi - Damage estimates were as high as $800 million.
Louisiana - 25,000 people were flooded when levees were opened to protect New Orleans. Why? If the Mississippi River flooded the city, it would hit harder than Hurricane Katrina. The flood would have also threatened ​ten Louisiana refineries, representing 14% of U.S. operating capacity. (Sources: Missourian, Army Corps of Engineers Pegs 2011 Flood Damage at $2 Billion, September 15, 2011; USA Today,CNN Money)
Despite being a 500-year flood, the 2011 flood didn't have the impact on the global economy of Japan's earthquake and tsunami ($300 billion in damages) or Hurricane Katrina ($125-200 billion in damages).
1993 Flood
The 1993 Mississippi was the costliest U.S. flood of the 20th century. It created $20 billion in economic losses. The NOAA reported that more than 20 million acres in nine states were flooded. Approximately 54,000 people were evacuated, while 50,000 homes were destroyed or damaged. The flood swamped 75 towns, some of which were never rebuilt.
However, the 1993 flood had only a minimal effect on GDP, unemployment and business growth. A study by Yu Xiao of the University of Illinois reported that "Two years after the event, there were no discernible aggregate effects on these economic indicators at the regional, state and county levels."
Great Mississippi of 1927
The 1927 flood was the most disastrous in US history. More than 600,000 people were displaced, while 500 died, from floods that covered 1 million acres with 30 feet of water. It changed how the U.S. government managed the Mississippi, resulting in a comprehensive levee system that protects the worst effects. Almost 300,000 African Americans were forced to live in refugee camps for months. This triggered a mass migration of African Americans to northern cities.
Economic Impact of Mississippi River Floods
Fear of flooding oil refineries spiked gas prices to $3.98 a gallon. That fear subsided with the opening of the spillways, and gas prices dropped back to $3.96 a gallon.
Much of the cost of flooding cost taxpayers. Private insurers. That won't insure against flooding without government guarantees.
By 2011, the National Flood Insurance Program was already $18 billion in debt, according to Philly.com.  That was due to Hurricanes Katrina, Gustav, and Ike. The added cost increased the national deficit and debt.
Food prices also spike, depending on how fast the flood waters recede. Soybeans, corn, rice, and cotton are planted in the Mississippi River area in the spring when flooding occurs. In addition, flood waters strip the ground of needed nutrients. That increases costs to farmers but provides a benefit to fertilizer companies.
On a side note -- Apparently fire ants will survive the flood unscathed, thanks to their ability to form waterproof rafts. Although this is unrelated to economics, I came across this amazing video that shows how.