Chase's Mission Main Street Grants Fund Small American Food Businesses
You Need a Following, Some Moxie and Quality to Win - Start by Entering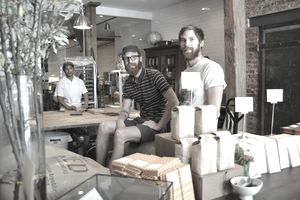 Recently a flood of emails and Facebook sponsored posts showed up with requests to "click to vote" for local food startups wanting to land $100,000 in Chase's 2015 Mission Main Street Grants® competition — a celebration of small businesses across the United States.
And why not? In 2015, the competition will award $100,000 each to 20 small businesses.
Applications are due June 5, 2015 (which happens to be National Doughnut Day, for your celebration).
Example Past Food Business and Cooking School Grant Recipients
As you can see, the winners range from family-run small businesses where you can get a great meal to the game-changing, more scientific food-related enterprises:
Apeel Sciences - Products made from natural plant extracts so growers can reduce use of pesticides, increase crop yield and provide longer shelf life.
Blue Oven Bakery, Inc. - Farm-fresh foods ranging from naturally fermented and more traditional breads, sweet pastries, tarts and prepared foods.
Dat Donut - Makers of fresh, delicious, high-quality hand-made donuts.
Edibles Rex - Helping educational institutions bring freshly cooked, nutritious meals to children in daycare and K-12 schools in Detroit. 
JC's Pie Pops - Creamy, crunchy, pie-inspired frozen cream desserts on a stick that are all-natural, made with hormone-free dairy and non-GMO ingredients.
Mast Brothers Chocolate - Artisanal chocolate factory and brew bar dedicated to the craft of handmade chocolate and brewed chocolate beverages. (If the fact that Mast Brothers is opening a chocolate factory in London is any indication, this golden ticket made a difference.)
New Orleans School of Cooking - entertaining and informative classes for visitors and locals interested in the authentic dishes and cultural history of New Orleans cuisine
Rolling in Dough Pizza - Mobile pizza businesses are a hot trend, and Rolling in Dough is clearly on point, serving wood-fired, brick-oven pizza in a fully restored vintage 1943 Harvester truck.
Shaktea Kombucha - Kombucha in Iowa? This microbrewery crafts organic kombucha and probiotic soda alternatives to nourish and energize you and your family.

Shaktea is especially worth noting. While they ran an unsuccessful Kickstarter campaign in 2013, they landed a $250,000 Chase Mission Main Street grant of which Google was also a participating funder. Only 12 applicants out of 35,000 won. Their grant is more than 8x the funding they had hoped to garner from the crowdfunding campaign. A great lesson in focusing energies in high impact ways.
The American Grilled Cheese Kitchen™ - A San Francisco located in hot area making grilled cheese sandwiches with high quality local and unique ingredients.
The Root Café - A casual, family-friendly restaurant that offers award-winning food made with fresh, seasonal ingredients sourced from small farms.
Who Can Apply
The Mission Main Street Grants program is all about money-making business.
You must be a for profit entity that has been in business for more than 2 years, with at least one owner who is a U.S. citizen over 18 years old.
Check out the rules for more details.