What's the Minimum Legal Working Age in Rhode Island?
Working Can Teach Young People Character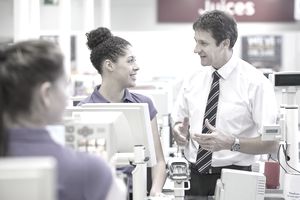 If you're a youth in Rhode Island thinking about getting your first job, you need to find out what the minimum legal working age in your state is. Are you eligible to work there?
Working can help you pay for college expenses, for nights out on the town, video games, dates, transportation or whatever your heart desires (within reason). And if you're a youth working without the help of your family, you should find out how many hours you can work per week to meet your financial goals.
How Old Must You Be to Work in Rhode Island?
Both federal child labor laws and Rhode Island law concur that the minimum age to work is 14 (with some exceptions). However, child labor laws in each state vary, so some states may indicate a different minimum age to work from what federal law outlines. When there is a contradiction between federal and state laws, the stricter law will apply.
That said, the minimum age to work does not include door-to-door sales, agricultural work or the child entertainment industry. All of those employment categories have different minimum age requirements. In addition, there are other child labor laws that limit the hours minors can work and regulate the minimum wage.
Contact a state official to learn more about these laws and how they apply to you or your child. Whether your child is a budding actress or a regular kid in need of more cash, it's good practice for children to review the rules and restrictions surrounding child labor laws before they begin their jobs, especially if they want to continue working as they get older.
Certificates Required
Rhode Island law requires child employment certificates for youth under age 16. Employment certificates are provided by the school. Children ages 16 and 17 are required by state law to obtain an age certificate from their school. Ask about either certificate during a visit to your school's administrative office.
What Hours Can Youth Work?
Although teens ages 14-15 can work in a variety of jobs, including in offices, restaurants, grocery stores and hospitals, Rhode Island limits the hours they may work. State law stipulates that young teens not work more than eight hours per day or outside of the hours of 6 a.m. and 7 p.m. (except from June 1 through Labor Day, when working hours extend to 9 p.m.)
This law is a bit more relaxed than federal law. Businesses covered by federal law must not employ  youth ages 14-15 for more than three hours on school days or before 7 a.m. 
Teens ages 16-17 may work up to nine hours per day and up to 48 hours per week. Teens this age may not work before 6:30 a.m or after 11:30 p.m., unless there is no school the next day. Then, they can work as late as 1:30 a.m. Teens in this group do not have limitations on hours when school isn't in session.
For more information on the minimum age to work in Rhode Island and how to obtain employment certificates, visit the Rhode Island State Labor website.