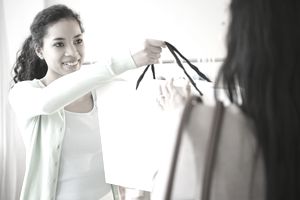 If you're an Illinoisan who's interested in working, it's important to know the minimum legal age you must be to start working in Illinois. If you're eligible to begin working, you must then consider any restrictions you face in the workplace because of your age. The younger you are, the more restrictions you'll likely encounter.
How Old Must You Be to Work in Illinois?
Federal child labor laws state that the minimum age to work is 14 (with some exceptions).
However, child labor laws in each state may also indicate the minimum age to work and which permits are needed. When there is a conflict between federal and state laws, the more restrictive law will apply.
In Illinois, you generally must also be 14 to work, but younger children can work in the state as well. For example, 12 and 13 can work on farms, and with their parents' consent. Typically, child labor laws don't apply to jobs such as babysitting, yard work, newspaper delivery and acting, meaning that pre-teens and children may perform such jobs.
Certificates Needed for Young Workers
Illinois state law requires kids under age 16 to have a child employment certificate to work. Young workers can obtain such certificates at school. The superintendent issues the certificates and parents and employers both get copies.
Also, youth ages 16 to 20 may present an age certificate to employers, but it is not required under Illinois state law.
Kinds of Jobs Teens Can Have
Teens ages 14 and 15 can perform a variety of jobs, including working as clerical workers, cashiers, cooks (in limited capacities), cleaners, kitchen workers, artists, intellectuals or creatives. However, they may not work jobs that expose them to hazardous materials or in manufacturing or mining.
In the summer, teens in this age group can work for longer than they can during the school year. When school isn't in session, they can work between 7 a.m. and 9 p.m. but no more than eight hours per day, six consecutive days in a week and 40 hours a week. Teens ages 16 and 17 have more flexibility. But like their younger counterparts, they can't work jobs in hazardous conditions. Mining and manufacturing aren't off limits to them, though.
Wrapping Up
Working offers teens a wide range of benefits. It helps teens to learn the value of money, responsibility, teamwork, punctuality and much more. Working can also help teens achieve independence. Rather than relying on their parents for allowance money, working teens can use their own money to buy clothes, music, concert tickets and other treats.
Teens from low-income families may work to help pay the bills, pay for their college education, books, school supplies and more. Unfortunately, some teens live on their own and work entirely to support themselves. While this isn't ideal, working at a young age can help a teen avoid some of the pitfalls others in their predicaments face.
For more information on the minimum age to work in Illinois and how to obtain employment certificates, visit the Illinois State Labor Website.