Milwaukee Gloves: So Smart That You Won't Need to Take Them Off
Milwaukee Gloves Offer Much More than Protection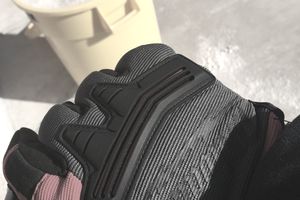 Milwaukee Tool is always leading the edge when we talk about production innovation, and this is exactly the case with their new set of construction gloves. These gloves, recently available in the market, will not only offer you protection, they will also give you the flexibility of accessing your drawings and making calls from your smartphone and tablet without taking them off. This great feature provides enhance safety as you will always have your hands protected against injuries in the workplace.​
Milwaukee Glove Material
These demolition gloves are reinforced with Armortex, for increased grip resistance and durability along the fingertips, thumbs, and palms. Another important feature that Milwaukee is offering, is the breathable material and mesh that helps drive out the moisture that normally occurs inside the glove, providing extra comfort while wearing the gloves. The construction glove also has knuckle protection guarding your hands against impacts and scrapes without being too rigid, not limiting movement and being comfortable at the same time. A key addition to these gloves is a terry cloth wipe on the backside so you can keep you sweat drops away from the face while working.
However, here is what makes these gloves so neat. The knuckle area is capable of using touch screen devices, so you can use your gloves to access drawings, search your smartphone or making phone calls easily while keeping your hands protected.
The SMARTSWIPE™ Knuckle allows you to use your smartphone screen without taking the gloves off, keeping your screen clean. For added convenience, the gloves are also designed with a webbing pull loop so users can easily pull them on or attach them to a tool bag for storage. These gloves are already at major hardware stores.
These are the size options available:
48-22-8731 (Medium)
48-22-8732 (Large)
48-22-8733 (XL)
48-22-8734 (2XL)
Construction Gloves Review
I tried the 48-22-8733 (XL) model and would need to say that the sizing is very reliable and will fit perfectly. First of all, these are a very comfortable and flexible set of construction gloves, making it easier to put them on. Although the construction of the glove itself is thick, the glove offers good flexibility and like other types of gloves, it is not a rigid type. I was able to go into my pocket and pull my smartphone easily without taking them off. The sense of grip and control while using the glove made me feel in control of the equipment being used so you can be aware of the work being carried out. Using the phone and the iPad was one of the best features that these gloves can provide, so I was able to pull drawings, accessing emails, making phone calls and texting without taking them off. These gloves were used on a construction site, to grab pieces of concrete, steel and construction debris overall and the grip provided is just fantastic.
Another good feature of the glove is that towel-like area on the backside that I used to wipe my sweat keeping my goggles clean while working.
After I finished the work, I threw the gloves in the washer and they came out nice and clean, keeping them ready for the next job.However, I need to point out that since they are demolition gloves, they are not insulated neither offer heat resistance, although the exterior is made out of leather. While using them at the job site, and while handling concrete and steel debris, the glove came out of the site without any pinch due to its tough construction.
This set of gloves is highly recommended as they are tough, offer great grip control, nice motion, the sweat pad is awesome and provide the ability to use your smartphone without taking them off. To summarize great gloves, and very affordable pricing, a must have set of gloves. Two thumbs up for the Milwaukee Team!