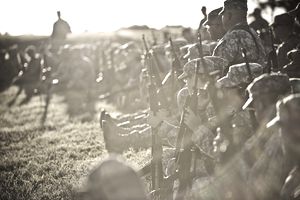 In 1973, DOD adopted the total force policy, which recognized that active and reserve U.S. military forces should be readily available to support military operations. As a result, reserve forces were no longer considered to be forces of last resort; rather, they are now recognized as indispensable to the nation's defense from the earliest days of a conflict. In addition, the reserves' peacetime support to the active forces has taken on increased importance in areas such as peacekeeping missions, counterdrug operations, disaster aid, and exercise support.
The seven reserve components are the Army Reserve, Army National Guard, Air Force Reserve, Air National Guard, Naval Reserve, Marine Corps Reserve, and Coast Guard Reserve.
The governor of each state can call the state's Army and Air National Guard units to ​active duty to help respond to domestic emergencies and disasters, such as those caused by hurricanes, floods, and earthquakes. If additional help is needed, a governor can request federal assistance through the Federal Emergency Management Agency (FEMA). With a presidential declaration of disaster, FEMA's federal assistance can include additional military support from DOD (both active duty and reserve forces).
Federal Call-Up Authority
Title 10 U.S.C. 12301(a) provides that, in time of war or national emergency declared by the Congress, the entire membership of all reserve components or any lesser number can be called to active duty for the duration of the war or national emergency plus 6 months.
Although this statute normally is viewed as the call-up authority for responding to a major threat to national security, DOD stated that it could be used to activate reservists for a domestic emergency. However, it has never been used for this purpose.
Title 10 U.S.C. 12302 provides that, in time of national emergency declared by the President, up to 1 million members of the Ready Reserve can be called to active duty for not more than 24 consecutive months.
Similar to the previous authority, DOD stated that this statute could also provide access to reservists for a domestic emergency, although it has never been used for this purpose.
Title 10 U.S.C. 12304 provides that when the President determines that it is necessary to augment the active forces for any operational mission, up to 200,000 members of the Selected Reserve can be called to active duty for not more than 270 days. (Note: The FY 2007 Military Authorization Act changes the maximum from 270 days to 365 days). This is known as Presidential Selected Reserve Call-Up (PSRC) authority. This provision also states that no unit or member may be ordered to active duty under this authority to provide assistance to either the federal government or a state in time of a serious natural or manmade disaster, accident, or catastrophe. Thus, this authority cannot be used to access reservists for domestic emergencies.
Title 10 U.S.C. 12301(b) provides that at any time a service secretary can order any reservist to active duty for up to 15 days each year. This authority traditionally has been viewed as the authority allowing the services to enforce the reservists' 2-week annual training requirement.
However, DOD's Office of General Counsel provided an interpretation in 1994 stating that this authority could be used for operational missions as well as annual active duty for training. The legal opinion noted that this authority could not be used if a unit or member had already completed 15 days of annual training for the calendar year. DOD stated, however, that this authority has not been used to call reservists involuntarily to active duty for a domestic emergency.
In addition to the involuntary activation of reservists under the above conditions, 10 U.S.C. 12301(d) provides for a call-up of reservists who volunteer for active duty. The number of volunteer reservists called to active duty and the length of time they may be kept on active duty generally depends upon the availability of funds and the end-strength authorizations for the active force.
There is separate statutory authority allowing involuntary call-up of Coast Guard reservists during domestic emergencies. Under provisions of 14 U.S.C. 712, Coast Guard Ready Reservists can be involuntarily activated to support domestic emergencies. Each reservist may be required to serve up to 30 days in any 4-month period and up to 60 days in any 2-year period.
Above information courtesy of the U.S. General Accounting Office