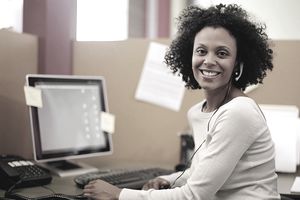 Employers across many industries and fields expect job seekers to have Microsoft Office skills. It's probably the most universally utilized software in businesses around the globe. You may not need to be an expert in MS Office, but it will help your job prospects to at least be acquainted with the basics, and to be considered for most roles.
If you're applying for an administrative position, you should be well versed in using Office programs for your daily tasks.
In this case, your hiring manager will no doubt expect a high level of proficiency. For other jobs — even high-level positions, literacy in at least Microsoft Word is typically expected.
MS Office includes ten different desktop applications, and the most common are Excel for spreadsheets, Outlook for mail, Powerpoint for visual presentations, and Word for desktop publishing.
Most Important Microsoft Office Skills for the Most Common Desktop Applications:
Top MS Excel Skills
Employers will be delighted to find job seekers who have proficiency with the following MS Office Excel skills.
Pivot tables: Managing data is simpler in Excel if you're able to master the art of the pivot table. Pivot tables do automatic actions like sorting and averaging to help you parse data quickly, using formulas that would otherwise take hours, to do a quick analysis.
Fill function: This skill allows you to duplicate one spreadsheet, and apply its information to other sheets automatically.
It will also help you to generate summary sheets quickly.
Formatting: there's no rule that says spreadsheets have to be ugly or boring. Spreadsheets that are formatted using consistent font sizing, brand-specific colors and uniform spacing will be better received by colleagues and bosses. Beyond the basics of making them palatable, there's now a host of artful details anyone can apply to a spreadsheet to make it downright attractive.
Don't underestimate the power of a well placed dotted line divider, or faded rainbow color scheme.
Top MS Word Skills
Where email ends, MS Word begins. For most written-word communications in business, MS Word is the system of choice. Most employers will seek candidates who can execute the following tasks in MS Word.
Formatting & page setup: Many people fuss with MS Word, unable to grasp the basics of their sometimes difficult-to-use formatting and page setup functions. It will behoove employees to learn the basics of these functions because they're core to using MS Office. Formatting can involve things like custom reusable headers, multiple columns, page numbering, and font and color choices. Once you create something you like, you can save the template and reuse it again and again.
Using SmartArt & textboxes: Word is great for more than text-based documents. It's also useful for things like flyers and signage. Word makes it easy now, but it's only easy if you know how to use these features. Shapes and text boxes can at times be unwieldy, because they don't like to overlap, and can sometimes jump around the page, but once you get the hang of it, and understand the quirks, you'll be a master.
If you prefer not to use Photoshop or don't have access to it, MS Word is a great alternative for simple visual design projects using images, shapes, colors, and other design elements.
Top MS PowerPoint Skills
PowerPoint is presentation software. It enables the designer to create handsome custom slides. Employers will seek candidates who can put together a presentation in PowerPoint. PowerPoint has a lot of default features, like shadows and sounds, and someone adept in PowerPoint will know which automatic qualities to remove as much they'll know which features to add in.
Working with custom slides and templates: someone adept at PowerPoint will be able to create an attractive slide from scratch, understanding the basic design elements of composition, color, and balance. A successful candidate will also be able to input new data into an existing template.
Animation: adding animations to text and images adds a layer of excitement to each slide. Animations allow elements on the page to zoom or fade in and out. Employers will prefer candidates who can tastefully and thoughtfully use this fun feature.
Working with MS Office can be fun and rewarding. Microsoft Office skills will come in handy in just about any role, but especially a workplace environment where administrative tasks will be valued. Brush up on your skills, and be prepared to talk about what you can do with MS Office in your next interview.
Microsoft Office Programs
Access
Excel
Outlook
PowerPoint
Publisher
Word
Office for Android
Office for iPad
Office for iPhone
OneDrive
OneNote
Office 365
List of Microsoft Office Skills
A - D
Analyze Tables
Auto Reply
Calendars
Cc: and Bcc:
Charts
Configure Email Settings
Create an Electronic Business Card
Create and Send Email Messages
Create and Manage Comments
Create Databases
Create Documents
Create Forms
Create Labels
Create Presentations
Create Queries
Create Slideshows
Create Spreadsheets
Create Tables
Create Templates
Data Analysis
Databases
E - P
Email
Email Filters
Emailing Documents
Formatting Documents
Formatting Tables
Formulas
Functions
Grammar Check
Insert Hyperlinks
Mail Merge
Manage Junk Mail
Manage Folders
Page Setup
Plan Meetings
Printing
Q - Z
Scheduling
Sending Attachments
Set Up Email Signatures
Sharing Documents
Spell Check
Text Formatting
Track Changes
Use Templates
How to Use Skills Lists
Use the skills mentioned here as you create your resume or cover letter, or as you search for a job. During your interview, be prepared to discuss the features you're familiar with and what you're able to do. Each job will require different skills and experiences, so make sure you read the job description carefully and focus on the skills listed by the employer.
Skills Lists
Employment Skills Listed by Job
Lists of Skills for Resumes
Additional Information
How to Answer Interview Questions About Skills 
What to Include in a Resume Skills Section