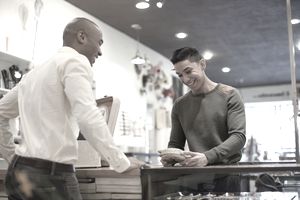 Net Promoter Score methods are a straightforward way to gain information about customer satisfaction. The Net Promoter Score technique has an ample following of proponents and an ample following of researchers who are vocally critical of the approach.
The "Would You Recommend" question that is the basis for the Net Promotor Score (NPS) has been deemed the ultimate question. It is human nature to pursue patterns and simple answers to questions that are cognitively efficient because they:
Are easy to remember;
Don't require a lot of thinking time;
Are simple to convey to others;
Are concise and tidy.
Customer satisfaction metrics are key drivers of change in business. The entry of social media networking in marketing and advertising has brought about some changes in the way market research is conducted, and also what is ultimately done with the market research data. While Net Promoter Scores are easy to use and seem simple to interpret, they are not the strongest customer satisfaction tool.
What Are the Drawbacks to Net Promoter Scores Methodology?
Unpublished studies about the correlation between the competitive growth rates of businesses and Net Promoter Scores. But research in peer-reviewed journals has not shown such a correlation. Keiningham, Cooil, Andreassen, and Aksoy conducted a study that disputes the value of Net Promoter Score as a predictor of the growth of a business.
The research was published in the Journal of Marketing in 2007.
According to Hayes (2008), the "ultimate question" posed by Net Promoter Score research - likelihood to recommend - does not show scientific evidence of being a superior question for predicting company growth. That is to say that other customer loyalty questions show similar strength as predictors of customer satisfaction.
Hayes argued that absolutely nothing different is measured by the "ultimate question" than any other conventional customer loyalty or brand loyalty questions.
Another important issue about the Net Promoter Score is that an 11-point scale is used, but it is reduced to one score. Respondents are categorized as Promoters, Detractors, or Passives.
It is important to recognize that the scores of Passives are simply ignored and discarded in the Net Promoter rating system.
This flies in the face of conventional market research traditions for scoring responses in which the top box (in Net Promoter Score language, the Promoters) are of interest, however, the next highest scores are of substantial interest to market researchers. These customers have the potential to be most easily won over and converted to top-box scores.
Yet, Net Promoter Score formulation would have market researchers ignore this category of customers - even calling them Passives.
Additionally, Schneider, et al. (2007) found that compared to other scales that have been evaluated for predictive validity, an 11-point scale comes in lowest of four other versions of scales.
Companies That Use and Value Net Promoter Score Methods
An impressive list of companies are using Net Promoter Scores: American Express BearingPoint, Apple Retail, E.ON, GE, Intuit, and Philips.
One of the newest applications of Net Promoter Scores is for loyalty to social gaming and other online applications. Companies that make good use of Net Promoter Scores are likely to have mastered the art of timing.
When and where (context) customer satisfaction questions are posed to consumers can make an enormous difference in the responses that are received.
Fred Reichheld published The Ultimate Question in 2006. Five years later, The Ultimate Question 2.0: How Net Promoter Companies Thrive in a Customer-Driven World was released by Fred Reichheld and Rob Markey. Apple is featured in the new edition of Reichheld's book as a company that listens deeply and systematically to its customers. Apple uses Net Promoter Scores as part of this deep listening activity. Apple customers are known to be exceedingly loyal.
It makes sense for Apple to make listening to customers one of its central market research endeavors.
Develop a Complete Plan for Measuring Customer Satisfaction
The ultimate question is a good customer satisfaction question, but it is only one question.
The "ultimate question" (Would you recommend this ____?"):
Is focused on the perceived value of the product or service by the customer;
Does ask consumers to define or explain their perceived value;
Does not measure the customer's intention...to buy the product or service again;
Most certainly does not measure action...it only measures consumer talk about action. 
These limitations make it essential to use other robust Voice of the Customer (VoC) data in a customer relationship management plan.
Sources
Hayes, B. E. (2008). The true test of loyalty. Quality Progress, 41(6), 20-26.
Keiningham, T. L. Cooil, B., Andreassen, T. W. and Aksoy, L. (2007, July). A longitudinal examination of net promoter and firm revenue growth. Journal of Marketing, 71(3), 39-51.
Schneider, D., Berent, M., Randall, T., and Kosnick, J. (2007). Measuring customer satisfaction and loyalty: Improving the Net Promoter Score. [Paper presented at the Annual Conference of the World Association for Public Opinion Research (WAPOR) in Berlin, Germany.