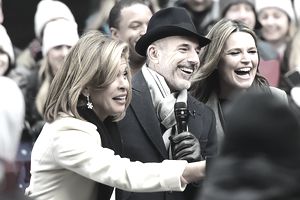 Matt Lauer has been the co-anchor of NBC's Today show since 1997. Currently, he co-hosts with Savannah Guthrie. Lauer also co-hosts portions of NBC's coverage of the Olympic Games.
Significance to the Media Industry
Matt Lauer presided in the years that Today enjoyed Nielsen ratings dominance over its long-time network morning show foe. Now that GMA has taken the lead in the mornings, Lauer is under increasing pressure to reverse the Today show's decline.
Morning news shows are sometimes dismissed as being nothing but idle banter and lightweight content, but Lauer has conducted many noteworthy interviews over the years which have helped Today maintain a newsy presence. Lauer has interviewed President Barack Obama and then-President George W. Bush.
Lauer can also present a lighter side. His "Where in the World is Matt Lauer" segments have him reporting live from around the world. He's given millions of viewers an up-close look at dozens of locations, both famous and obscure. It's a fun way to teach people geography, world culture, and history that has become a popular series.
Lauer's greatest test has come since the dismissal of Ann Curry as his co-anchor in 2012. Whether fair or accurate, Lauer has received a backlash from viewers over her departure, with some accusing him of being behind it. That public relations nightmare may be partly to blame for the Today show's slide into second place.
Matt Lauer's Early Career
Matt Lauer dropped out of Ohio University to start his TV career in 1979 as the noon news producer at WOWK in the Charleston/Huntington, West Virginia, DMA. Soon he began reporting on the air for the station.
After that, he shifted from being a traditional news reporter to an information/talk show host.
He appeared on the then-popular PM Magazine shows that aired in the 1980s, starting in Richmond, Virginia. Then it was off to Providence, Rhode Island, and New York City to host various shows in those cities.
Lauer appeared to be on the rise, then his career hit a rough patch and he found himself out of work for an extended period. Even with some small reporting jobs, he decided to apply for work as a tree trimmer, as he remembered in an interview with Broadcasting & Cable magazine.
His luck soon took a much-needed change. He was hired to co-anchor the morning newscast at WNBC, the NBC O&O station in New York, even though he'd never worked as a news anchor. He later added the 5 o'clock newscast to his daily anchoring duties.
That exposure gave him the chance to fill in on Today as the news headline-reader in 1993 before he got that job the next year. In 1997, he was named co-anchor with Katie Couric when Bryant Gumbel left the program.
Career Highlights
Besides his hard-news interviews with presidents, Matt Lauer has occasionally been involved in edgy on-air exchanges with guests that have generated their own headlines. In 2005, actor Tom Cruise became heated when Lauer pressed him for answers about Scientology and psychiatry.
Lauer also interviewed then-First Lady Hillary Clinton in 1998, shortly after the Monica Lewinsky scandal broke. That was his biggest early interview and helped raise his profile alongside the established Couric.
The two of them helped guide a shocked audience through the horror and chaos of the September 11, 2001, terrorist attacks, which happened while they were on the air. They both remained calm and reassuring as the news continually grew worse that day.
Lauer was inducted into the Broadcasting & Cable Hall of Fame in 2008.
Personal Information
Matt Lauer was born on December 30, 1957, in New York City. Despite dropping out of Ohio University, he was later awarded his degree.
Lauer has three children with his second wife, Dutch model Annette Roque.