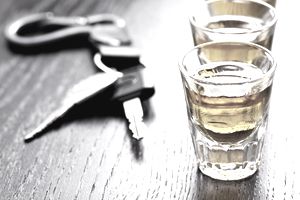 It's no great secret that drunk driving is incredibly dangerous and that states are doing more than ever to put a stop to it. Massachusetts is no different. In 2005, the state adopted changes to its OUI (operating under the influence) laws that included stricter penalties as well as a number of other enhancements. Known as "Melanie's Law," these changes resulted in some of the toughest drunk driving penalties in the nation.
With a few minor modifications along the way, Melanie's law remains in effect today. So, if you are still not convinced that drinking and driving are a bad combination, you may want to read further to find out just what penalties Massachusetts has in store for you if you get caught driving under the influence.
BAC Testing, Levels and Suspension Penalties
Massachusetts is an "implied consent" state, meaning that simply by operating a vehicle in the state, a driver is deemed to have consented to submit to an alcohol test when requested by a law enforcement officer with reason to believe the driver may be legally impaired or driving under the influence of alcohol. Refusal to submit to an alcohol test under these circumstances will result in the immediate suspension of the individual's driver's license. Length of suspension varies depending on factors such as number and type of previous offenses, and whether the offender is a minor at the time of the refusal.
For an adult driver (21 or older), for example, suspensions can last from 180 days with no prior OUI's to the driver's lifetime with three or more OUI's. Suspension penalties are more severe for minors and commercial vehicle drivers. For example, a driver with a commercial driver's license (CDL) who is convicted of a second alcohol test refusal will lose his license permanently.
Current BAC limits in Massachusetts are:
Adult Drivers (21 years of age or older): 0.08% or higher.
Minors (under 21 years of age): 0.02% or higher.
Commercial Vehicle Drivers: 0.04% or higher.
Massachusetts is a "per se" jurisdiction, which means that a driver tested for alcohol and found to have a BAC at or above these limits is presumed by law to be under the influence and subject to OUI conviction and penalties. License suspension penalties for failing a BAC tests include:
Adult Drivers: 30 days, or until disposal of the case, whichever is earliest.
Minors: 180 days.
The suspensions discussed above are in addition to any penalties imposed for a criminal OUI conviction and cannot be carried out simultaneously to those criminal penalties.
Penalties for OUI Convictions
Offenders convicted of OUI in Massachusetts face the following substantial penalties:
First Offense (Misdemeanor): Maximum 2 and 1/2 years in prison; one-year license suspension; $500 to $5,000 fine. First-time offenders may be eligible for a reduction of their license suspension period with completion of a court-ordered alcohol education program.
Second Offense (Misdemeanor): 30 days to 2 and 1/2 years in prison; two-year license suspension; $600 to $10,000 fine.
Third Offense (Felony): 150 days to five years in prison; eight-year license suspension; $1,000 to $15,000 fine.
Fourth Offense (Felony): One to five years in prison; ten-year license suspension; $1,500 to $25,000 fine.
Fifth Offense (Felony): Two to five years in prison; lifetime loss of license; $2,000 to $50,000 fine.
An offender must further pay a reinstatement fee before return of his or her license.
Additional Penalties
Vehicular Homicide and Manslaughter while Under the Influence: 15 years in prison for a first offense.
OUI with child (14 or younger) in Vehicle: Additional one-year license suspension for first offenders; additional three-year license suspension for second and subsequent offenders.
Ignition Interlock Devices: Individuals with two or more OUI offenses and eligible for license reinstatement or a hardship license are required to have an ignition interlock device installed on their vehicle and any other vehicles they drive.
For license reinstatement, the offender must use the device for two years after reinstatement of his or her license. For those granted a hardship license, the device must be used for the entire period the offender operates under the hardship license, plus the first two years following license reinstatement.
You Have Questions? I Have Answers!
Let's Connect! Please Follow Me on Twitter @CarInsReview