Market Your Firm on Constitution Day
Maximize Return and Generate Goodwill on September 17 and Beyond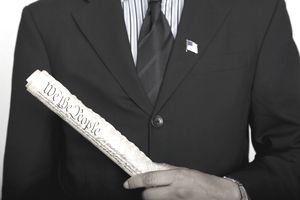 Even if the Commerce Clause (art. I, § 8, cl. 3) is not your favorite provision, there's no reason to let a day dedicated to the U.S. Constitution slip by without exercising your own rights to promote your law firm and your legal practice. No need to feel even the slightest bit unseemly about mixing a bit of professional branding with a commemoration of the signing of the Constitution. After all, what commemorative day is there that isn't associated with just a bit of commercialism?
See, e.g., Mother's Day, Father's Day, Grandparents Day (36 U.S.C. §§ 117, 109, 125).
As every lawyer knows, the U.S. Constitution was signed on Sept. 17, 1787. Although the original 13 colonies had declared their independence on July 4, 1776, the country's founders operated initially under the Articles of Confederation, a document that largely omitted, interestingly enough, a federal judiciary.
September 17 is designated as "Constitution Day and Citizenship Day" at 36 U.S.C. § 106. This tiny little provision of the law provides a relatively uncontroversial opportunity, in addition to Law Day (36 U.S.C. § 113), to celebrate the legal system and those who help it function. We may disagree on the Constitution's interpretation (and sometimes our obligation to adhere to certain provisions of it), but there's generally not that much dispute about the validity of the document itself. The original is housed in the National Archives in Washington, D.C.
Thanks to a 2004 appropriations provision dubbed the Byrd Amendment for the Senator who introduced it (Sen. Robert Byrd, D-W.Va.), schools that accept federal funds were directed to hold an educational program on the Constitution every September 17. Consolidated Appropriations Act, 2005, Pub. L. 108-447, Div.
 J, Title I, § 111, Dec. 8, 2004, 118 Stat. 3344. September 17 was previously known as Citizenship Day and the week beginning September 17 as Constitution Week.
In addition to helping younger generations learn about their constitutional rights, designation of September 17 as Constitution Day and Citizenship Day means that lawyers very much have an opportunity to perform a bit of service by participating in commemorative events held at colleges, universities, primary and secondary schools, and other educational institutions.
If by some chance your email inbox has not been deluged with invitations to speak at, participate in, attend, and/or sponsor a get-together on the Constitution and its contemporary relevance, check your local bar's website or just google 'Constitution Day' or search Twitter with #ConstitutionDay to get a better sense of the events planned for your area. Of course, your engagement in some of these opportunities is best planned well beforehand, but even if you have not been particularly active on Constitution Day, you can still take steps in the days before it, on the day itself, and even afterward to help promote your law practice.
As lawyers, of course, we tend to have our favorite provisions and are generally knowledgeable about the document whether or not our practices scrape up against constitutional law.
The rest of the universe, however, is not quite so well informed. The Washington Post reported that less than 40 percent of Americans are able to identify all three branches of government. No doubt, a little gratis education by lawyers on Constitution Day, or any other, could be helpful to the general populace.
At this time of year, when there's plenty of publicity about the Constitution, our government's structure, and commemorative activities, law firms of any size can engage in a bit of brand building by demonstrating the relevance of the Constitution to their clients or prospective ones. Now is the time to draft pertinent articles and blast newsletters, update blogs, and tweet (again, #ConstitutionDay) about all sorts of things pertinent to your practice and the foundation of our system.
While the Constitution is on people's minds, you want to link your practice in a positive way to the festivities. While there is always a place for highly intellectual discourse, every marketing activity, even on Constitution Day, during Constitution Week, or while we are all adhering to the Constitution, does not have to involve a heavy dose of gravitas. Wouldn't prospective or current clients be drawn to a "​celebrate like the founders" commemoration featuring food and beverages likely to be consumed in 1787? However, you promote your practice on Constitution Day, find ways to make your work pertinent to clients' lives, and the Constitution to theirs.