Market Research is the Key to Successful Brand Change Initiatives
Re-Branding Success Rests on Knowledge About Consumer Responses to Change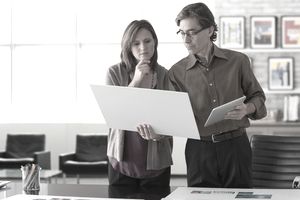 Market researchers are often commissioned to determine the probable consumer response to changes. Typical change-related market research efforts address client-facing changes such as modifications to a brand logo or the addition of a new product or service.  Product launches are supported by strong market research efforts.
Generally, an unavoidable change is likely to result in some consumer discontent.
Any brand or product line change is vulnerable to some consumer unhappiness.  Market researchers must supply the type of information that marketers and advertisers can use to figure out ways to effectively bring about the change with the least amount of disruption and the greatest degree of benefit. 
The Foundations of Change Management 
Every major discipline or field has engaged in the study of change management.  Partly, this is due to the fact that change inevitable and inescapable--a fact of life everyone recognizes.  But the large body of change management research in business is also due to the fact that understanding the consumer response to change can have a substantive effect on a company's return on investment (ROI). 
Many theories and approaches to change abound. Two seminal lines of research that everyone in market research should understand are: Diffusion of Innovation and the Change-Based Adoption Model.
Diffusion of Innovation
Rogers (2003) developed a theory for how change, which he referred to as innovation, is diffused through an organization.  He established a framework for examining how innovations are spread and the roles that people assume in response to the diffusion of the innovation.  Although Rogers work focused on organizational and individual change, it is relevant to market change as well since individuals are the market.
Rogers studied how the diffusion of innovations occurs across different cultures.  Innovations are defined as ideas, practices, and products that are perceived by individuals as new or changes to what previously existed.  The attributes of consumer innovators, the rate at which ideas are adopted, and the decision-making process of all those involved in the change management initiative or diffusion of innovation are all factors that determine the nature of the change and how the innovation is diffused. 
Change-Based Adoption Model (C-BAM)
Hall & Hord (2004) instituted the Change-Based Adoption Model (C-BAM) after years of researching how educators and business people adapted to change.  The C-BAM model was developed at the University of Texas at Austin.  The model for addressing change is one of the most comprehensive, with substantial guidelines and processes for addressing how people respond to and adapt to change. The C-BAM model articulates Stages of Concern and Levels of the Use of innovation as guidelines for understanding and mitigating the responses that people have to change in their organizations and in their practice. 
The same dynamics that are observed in diffusion of innovation or the Change-Based Adoption Model (C-BAM) may be applied to the changes that consumers undergo when brands, products, and services they love or enjoy are changed through business decisions or regulations.
Know That You Know
Market researchers can become change management masters who are able to advise advertisers, marketers, and business decision-makers as they consider consumer responses to brand-related changes.
Sources:
Hall, G. E. & Hord, S. M. (2004, May 11). Implementing Change: Patterns, Principles, and Potholes. (4th ed.). New York: Pearson.
Kotter, J. P.  (2012). Leading change. Cambridge, MA: Harvard Business School Publishing Corporation
Rogers, E. (2003, August 16). Diffusion of Innovations, 5th Edition. New York, NY: Simon and Schuster.