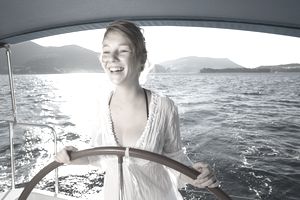 Company Overview
The Markel Corporation is a leader in specialty lines insurance and has been in business since 1930. Among the product offerings of Markel Personal Lines is boat insurance, renters insurance, dwelling fire insurance, motorcycle insurance, ATV/snowmobile insurance and more. The company's motto is Specialty insurance by real specialists. As a company specializing in niche markets, Markel Marine offers a more comprehensive boat insurance policy for those who need more than just the basic coverage options.
Financial Stability and Customer Service
Markel Corporation has an excellent record of financial strength and consistently receives high ratings from the following top insurance rating organizations:
Markel Insurance also receives excellent customer service satisfaction ratings. The Better Business Bureau gives the company its "A+" rating.
Boat Insurance Policy
Markel Marine insures pleasure boats, personal watercrafts, rental and commercial boats. Regardless of your boating insurance needs, you are likely to find a policy to fit. Some of the coverage options available include:
Watercraft liability: Pays for bodily injury or property damage to others with limits ranging from $25,000 to $1,000,000.
Pollution Liability: Covers costs resulting from damage to property or clean-up costs resulting from an unintentional spill of a contaminant.
Medical Payments: Helps to pay for medical treatment needed by any person in your boat resulting from a covered accident. The first $1,000 worth of medical payments is included in your policy at no extra charge.
Uninsured boater: Covers bodily injury caused to your or a family member resulting from an accident with an uninsured motorist. This coverage is including in your policy at no additional charge to you.
Physical damage: Pays for damages to the hull and equipment and replacement is your boat is stolen. A range of deductible options are available from 1% (minimum $250, 2% (minimum $500) or a 3% deductible option (minimum $750) of the hull value.
Agreed value watercraft and equipment: Available with physical damage protection and pays an agreed value settlement. There is no deductible for partial losses and no deductions for depreciation.
Replacement cost coverage: This option is available for watercrafts up to three years in age. Markel will pay for a new boat of the same make and model in the event of a total loss including theft.
Towing: $500 of towing coverage is including in your policy to cover towing charges after an accident to do necessary repairs to your boat, emergency labor or to deliver gas, oil, parts or a battery.
Personal effects: Covers personal items up to $1,000 including at no additional cost for cell phones, MP3 players, personal flotation devices, water skis and more. You may purchase additional coverage for personal items up to $5,000 with a $250 deductible.
Professional fisherman protection: Provides replacement cost for your fishing equipment including rods, reels, lures, rigs, lines, tackle boxes, depth finders and trolling motors up to $5,000 with a $250 deductible.
Boat lift coverage: This additional insurance option pays for your damages to your boat lift that may not be covered under your homeowner's policy.
Discounts
Boat insurance discounts available through Markel may help you save as much as 35% on your insurance premium. The Experienced boater discount is available to boaters with five or more years of boating experience while the Loss free boating discount decreases your deductible by 25% for every accident-free policy year. Other discounts available include:
Multiple unit discount
Outboard propulsion
Primary operator age 40 or over
Diesel engine
Final Thoughts
One big advantage of buying boat insurance through Markel Marine is that it offers a more comprehensive line of coverage than some of the standard insurance carriers. As a specialty company, you will be able to buy extra features that come standard without any extra cost involved. A disappearing deductible option reduces your deductible for every policy year you are accident-free.
You'll also be able to set up a pay plan that is flexible to meet your individual budget needs. The discounts are generous and the claims service is above average. With all the strengths going for it, Markel is a good option to consider when searching for the best value on a boat insurance policy. You can find out more about boat insurance or get a quote by visiting the Markel Marine website or calling 1-800-236-2453.