Supply Admin and Operations Specialist (MOS 3043)
Marine Corps Enlisted Job Descriptions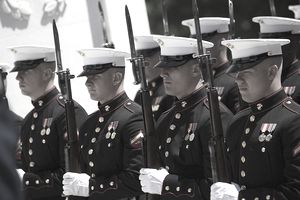 According to the U.S. Marine Corps, supply administration and operations specialists (MOS 3043) perform technical duties in retail and wholesale supply accounting within every Marine Corps unit. In fact, administration and operations specialists perform every aspect of ground supply administration and operations, according to the Military Occupational Specialities (MOS) Marine Corps Manual.
Supply administration and operations specialists operate personal computers, and complete tasks, such as technical research functions for customer inquiries, multimedia data entry, scanning and retrieval system functions, generation of routine reports, and requisition and procurement processing.
In addition, these Marine specialists maintain and prepare necessary accounting and supply documents, and custody records. They also perform reconciliations, and ensure corrective action in a timely manner of any identified problem areas. Supply administration and operations specialists are also responsible for solving data output interpretation problems, and contacting appropriate sources to resolve questionable areas.
Job Requirements:
Must possess a GT score of 110 or higher.
Complete the Enlisted Supply Basic Course, MCSSS Camp Lejeune, NC.
No convictions by court-martial, civilian courts, or nonjudicial punishment of any act involving larceny or theft.
The Supply Field
Supply administration and operations specialists are one of several opportunities in the Marine Corps supply field. Other jobs include those that deal with, warehousing, packaging, handling hazardous materials, fiscal accounting and purchasing.
Training
After recruit training, Marines in the supply field will complete the Enlisted Supply Basic Course offered at Camp Lejeune, N.C, according to the U.S Marines. 
What is a Supply Platoon?
A Supply Platoon is the central storage and distribution point for the majority of supply line items, such as repair parts, fuel, rations and clothing for marines on deployment or at a base.
Other Supply Jobs Include:
Warehouse Clerk: These Marine receive, inspect, store, prepare, ship all supplies.
Packaging Specialist: Plans, supervises, trains and performs duties relating to the preparation and packaging of sensitive materials for shipment.
Related Marine Corps Jobs:
Aviation Supply Clerk, 6672
Finance Technician, 3432
Aviation Supply Specialist, 6672
Ground Supply Officer, 3002
Financial Management Resource Analyst, 3451
Fiscal/Budget Technician, 3451
Personnel/Administrative Chief, 0193

Warehouse Clerk, 3051

Personnel Clerk, 0121

Marine Aide, 3372

Aviation Ordnance Chief, 6591
(1) Merchandise Distributor 219.367-018.
(2) Space and Storage Clerk 219.387-026.
(3) Stock Control Clerk 219.387-030.
(4) Inventory Clerk 222.387-026.
(5) Material Clerk 222.387-034.
(6) Property Custodian 222.387-042.
(7) Stock Clerk 222.387-058.
(8) Storekeeper 222.387-062.
(9) Order Filler 222.487-014.
(10) Parts-Order-and-Stock Clerk 249.367-058.
(11) Distribution Accounting Clerk 210.362-010.
(12) Bookkeeper 210.382-014.
(13) Collection Clerk 216.362-014.
(14) Budget Clerk 216.382-022.
(15) Entry Clerk 203.582-054.
(16) Office Manager 169-167-034.
(17) Budget Analyst 161.267-030.
Related Articles:
What are Supply Administration and Operations Specialists?