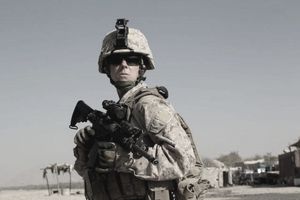 MOS/Title: 0302 -- Infantry Officer
Type of Officer : Unrestricted Line Officer
Type of MOS : PMOS
Rank Range: LtCol to 2ndLt
Job Description: Infantry officers are the commanders or their assistants in infantry and reconnaissance units in Marine Air-Ground Task Forces (MAGTFs). They plan, direct, and assist in the deployment and tactical employment of MAGTFs and any subordinate infantry and reconnaissance units.
Infantry officers are responsible for the discipline, morale, and welfare of their unit's Marines. To fulfill these responsibilities, they evaluate intelligence; estimate the operational situation; and formulate, coordinate, and execute appropriate plans for offensive/defensive maneuver, reconnaissance, fire support, nuclear, biological and chemical defense, directed energy warfare, communications and operational logistics and maintenance.
Job Requirements:
Complete the Infantry Officer Course at MCCDC, Quantico, VA.
Duties: For a complete listing of duties and tasks, refer to NAVMC Directive 3500-87, Training and Readiness Manual.
Related Department of Labor Occupation Codes :
No civilian equivalent.
Related Marine Corps Jobs:
None.
Above information derived from MCBUL 1200, part 1