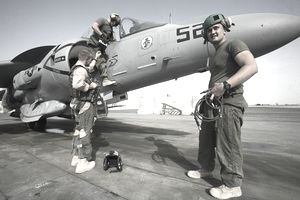 Type of MOS : PMOS
Rank Range: MGySgt to Pvt
Job Description: An expeditionary airfield systems technician employs, installs, operates, inspects, and repairs expeditionary airfield (EAF) systems to include arresting gear, visual landing aids, airfield AM-2 matting and accessories, EAF communications and airfield lighting and marking. In addition, Marines in this field operate, inspect, and maintain emergency arresting gear systems for high performance Naval and Marine Corps Tail Hook aircraft, design expeditionary AM-2 airfield facilities, provide field marker light (FML) systems for Marine Expeditionary Units (MEUs), and conduct tactical/assault landing zone assessment surveys (TALZAS) for Nava: and Marine Corps tactical aircraft.
Job Requirements:
(1) Must possess an MM score of 95 or higher.
(2) Vision correctable to 20/20 and normal color acuity.
(3) Complete the Marine Expeditionary Airfield Equipment School, NAS Pensacola, FL.
Duties:
(1) MGySgt to Pvt:
(a) Operates and performs preventive maintenance on expeditionary airfield systems.
(b) Installs and performs preventive maintenance on AM-2 matting utilized in conjunction with recovery equipment.
(c) Installs and performs preventive maintenance on visual landing aids.
(d) Follows published safety regulations relative to working near and on a runway and know the hazardous zones.
(e) Utilizes visual hard and light signals required in recovery operations.
(f) Maintains tools, instruments, and test equipment.
(g) Documents maintenance actions.
(h) Operates vehicles with a rated capacity of at least 5 3/4 ton category.
(i) Operates tactical and commercial forklifts and cranes of 4-25 ton capacity.
(j) Performs driver operator maintenance and inspection on all types of support vehicles and heavy equipment up to and including those in the 25-ton capacities.
(2) MGySgt to Cpl:
(a) Evaluates by test and inspection the serviceability of recovery equipment and recommends necessary repairs.
(b) Employs characteristics of recovery components in the recovery of the various naval aircraft.
(c) Utilizes emergency aircraft arresting gear.
(d) Processes maintenance documents and utilizes EAF system logs and records.
(3) MGySgt to Sgt:
(a) Requisitions supplies and materials required to support recovery equipment including visual landing aids.
(b) Maintains an accurate and detailed maintenance and landing log.
(c) Functions as a work center supervisor" or crew leader.
(4) MGySgt to SSgt:
(a) Prepares aircraft recovery equipment for storage and shipment.
(b) Coordinates with other activities for the repair of recovery equipment.
(c) Functions as a quality assurance representative and maintenance controller.
(5) MGySgt to GySgt:
(a) Conducts informal OJTjtechnical training.
(b) Ensures proper implementation of applicable recovery bulletins for various naval aircraft.
(c) Functions as maintenance chief.
(d) Advises and assists in the development of budget requirements and prepares all necessary administrative reports.
(e) Conducts Tactical/Assault Landing Zone Assessment Surveys.
(6) MGySgt and MSgt;
(a) Plans, schedules, and directs the work assignments of the recovery personnel.
(b) Supervises the implementation of the published safety regulations and command changes where applicable.
(c) Coordinates recovery operations with other airfield operations.
(d) Coordinates EAF MWSG/MAW MPF operations relating to planning, marshaling, movement, and assembly of equipment.
(e) Conducts Tactical/Assault Landing Zone Assessment Surveys.
(7) MGySgt:
(a) Assists in the preparation of the airfield operations manual and related operations instructions.
(b) Acts as overall enlisted technical advisor and coordinator for the integration of the EAF components into the airfield operations.
(c) organizes, supervises, and assists in the management of an aviation operations activity.
(d) Conducts Tactical/Assault Landing Zone Assessment Surveys.
Related Department of Labor Occupation Codes :
Aircraft Launch and Recovery Technician 912.682-010.
Related Marine Corps Jobs:
None.
Above information derived from MCBUL 1200, parts 2 and 3