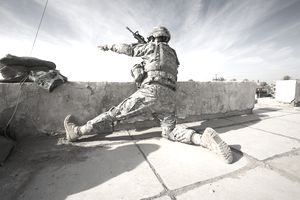 In 2018, a move to make the USMC Scout Sniper a primary MOS is potentially occurring. This means a recruit off the street can join to become a Marine and sign the delayed entry program contract as an 0317.  The recruit will go through boot camp and then attend the School of Infantry.  After successful completion, the new Marine will immediately be sent to one of four USMC Scout Sniper courses (Quantico, SOI - East in Camp Lejeune NC, SOI - West in Camp Pendleton, and USMC Base Hawaii).
  . The need for snipers in the Marine Corps has increased due to the operational threat of the terrorist threat, thus the increase in regional training areas so all USMC Regiments can train the needed number of snipers for future missions. Once graduating the Scout Sniper Course, the Marine will go to the fleet to be placed in Scout Sniper role in a platoon.  
The U.S. Marines Scout Sniper (0317) currently is a secondary MOS among Marines already qualified in Marine Infantry or Marine RECON units are trained to use precision rifle fire at selected targets from a concealed position. These actions are typically accomplished in any environment and long range with little support from other Marine or military assets. In support of combat operations, scout snipers are highly regarded in times of war, as they are Marines skilled in enemy surveillance, stealth and concealment, and marksmanship. Snipers can be easily deployed in urban population centers where the enemy is among the indigenous people and effectively engage individual targets without collateral damage on civilian lives or property.
According to the U.S. Marines, the scout sniper platoon consists of 8-10 scout sniper teams and works directly for the battalion commander. This platoon of marines may provide support to maneuver units or may operate independently. Scout snipers are tasked with the main mission of providing surveillance operations in order to gain intelligence on the enemy and the terrain.
Scout Snipers include:
Spotters: These marines detect, observe and confirm sniper targets. They are also tasked with calculating the range and wind conditions on a given target, and conducting reconnaissance and surveillance missions.
Snipers: These marines deliver long-range precision fires on selected targets. They also conduct reconnaissance missions and enemy and terrain surveillance.
A Secondary Mission
Scout snipers have a secondary mission of gathering information for intelligence purposes. They participate in activities designed to deny the enemy freedom of movement by targeting enemy leaders, crew-served weapons operators, radiomen, observers, messengers, and other key personnel with precision fire.
Scout snipers engage vital material targets such as command and control equipment, light armored vehicles, air defense radar, and missile launchers that require precision rifle fire to neutralize. Scout snipers also conduct close reconnaissance and surveillance operations for the infantry battalion in support of the intelligence section.
Training
While specific requirements vary by battalion, infantrymen who qualify to be trained as a scout snipers may be selected after passing their USMC PFT and CFT and height weight standards to get a chance at completing a two-week indoctrination course.
These marines must first serve for a time in the battalion scout-sniper platoon, and a marine may be sent to the formal Scout Sniper Course to earn the official scout-sniper military occupational specialty (MOS).
To be selected by a battalion to join the scout-sniper platoon, these marines must earn the rank of Lance Corporal and complete an approved scout-sniper course in order to receive this designation.  The Advanced School of Infantry holds the Scout Sniper Course and it lasts 79 days complete with meticulous practices of perfecting one's gear, field craft, stealth, concealment, and shooting accuracy. 
Job Requirements:
(1) Must have a minimum GT Score of 100 or higher.
(2) Must be currently qualified as an expert rifleman.
(3) Possess all the essential qualifications and capabilities of an infantry Marine.
(4) Must have vision correctable to 20/20 in both eyes. Color blindness is discouraged.
(5) Must have a current First Class PFT.
(6) Have no history of mental illness.
(7) Must be eligible to receive a secret security classification.
(8) Successful completion of an approved Scout Sniper Basic Course at Quantico, or at the School and Infantry - East or West. 
Related Marine Corps Jobs:
(1) Rifleman, 0311.
(2) Reconnaissance Marine, 0321.
Related Articles:
United States Marine Corps Enlisted Job Descriptions and Qualification Factors
Some of the above Information was derived from MCBUL 1200, parts 2 and 3