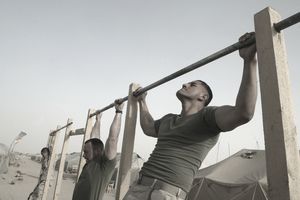 Regardless of age, rank, MOS (military occupational specialty), Marines must keep themselves fit and ready to perform their mission.  If you want to become a member of the United States Marine Corps, you will need to be able to master several fitness tests.  For instance, in order to join the Marine Corps, you will first take the Initial Strength Test (IST) as a recruit before boot camp which is a test consisting of pull-ups, crunches, and a 1.5 mile timed run.
Every year, Marines have to take two physical fitness tests:  the USMC PFT (Pull-ups, Crunches, 3 mile run) and the Combat Fitness Test (CFT) which is broken down into three categories of testing:  An 880 yard run in boots and pants, Ammo Can Lifts, and a Maneuver Under Fire.  This job-related test is designed to simulate many of the tasks that a Marine in a combat zone should be able to perform.  Along with USMC Obstacle Courses, the new Combat Fitness Test is considered a functional training and testing program used by the American warfighter. 
The Marine Corps has developed a Combat Fitness Test (CFT), that all Marines must pass, in addition to the standard Marine Corps Physical Fitness Test (PFT). Originally, created after years of sustained combat operations that resembled more war-time functional skills, the CFT was pass/fail. However, beginning in July 2009, the Marine Corps established a scoring system for these events, and count toward Marine Corps promotion points, just as the PFT currently does.
The CFT consists of three events: an 880-yard run, ammo can lifts, and maneuver under fire:
880 Yard Run. Marines will run for 880 yards while wearing boots and camouflage uniform (pants and t-shirt).
Ammo Can Lifts. Marines will lift a 30-pound ammo can from the ground, over their heads as many times as they can in two minutes.
Maneuver Under Fire. Marines must move through a 300-yard course, and perform designated tasks, in the time limit authorized. The tasks include:
Moving in a quick scurry for 10 yards, then a high craw for another 15 yards.
Drag a casualty for 10 yards, while zigzagging through several cones. Then lift the casualty and carry him/her at a run for 65 yards.(drag and fireman carry)
Carry two 30-pound ammo cans for 75 yards, while zigzagging through a series of cones.
Toss a dummy grenade 22 1/2 yards and land it in a marked target circle.
Perform FIVE push-ups, pick up the two 30-pound cans and sprint to the finish line.
For complete information about the new requirements, see USMC CFT Page.
In 2016, the Commandant of the Marine Corps overhauled the Marine Corps Physical Training Program.
The Marines have made it more difficult to maximize the points throughout all the age groups nearly doubling some of the repetitions to achieve max points in the Ammo Can Lifts for instance.  What used to be maximum points in the 60 -70 repetition range, now you have to score over 100-120+ to get max points depending on your age in the new eight age groups.
Mainly the changes are upgraded scoring and adding in four new age groups now totaling eight age groups instead of just four.
 In January 2017, the Marine Corps new standards as well as the newly established age groups system for each event will be in full effect. 
The current Maximum requirements to pass the CFT are:
Combat Fitness Test Requirements
Males
Age
880 Yard Run
Ammo Can Lifts
Maneuver Under Fire
17-20
3:48
45
3:29
21-25
 
 
 
26-30
4:00
45
3:55
31-35
 
 
 
36-40
 
 
 
41-45
4:19
44
3:57
46-50
4:30
43
4:28
51+
 
 
 
Females
Age
880 Yard Run
Ammo Can Lifts
Maneuver Under Fire
17-20
4:34
20
4:57
21-25
 
 
 
26-30
 
 
 
31-35
4:40
21
5:27
36-40
 
 
 
41-45
5:09
17
6:07
46-50
 
 
 
51+
5:20
15
6:30
The USMC has announced the tougher standards in an overhaul of the Combat Fitness Test (CFT), the Physical Fitness Test and Body Composition Policy.