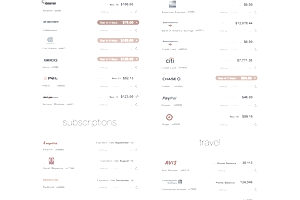 Manilla released an announcement that it closed its doors on July 1, 2014.
Manilla organizes your bills in one place, along with travel reward points, magazine subscriptions and account balances. This service is easy to work with and will remind you to pay bills on time. There are no budgets or financial reporting available in Manilla, so if you need these tools you'll want to consider other online personal finance software.
Otherwise, Manilla is a slick and secure online money management service with an Android and iPhone app.
Like almost all online personal finance software services, Manilla connects to your financial accounts and downloads transactions automatically. Manilla also takes bills out of your mailbox by automatically putting financial accounts on a "no paper" status. Another nice perk the service offers is online document storage for your bills and financial statements.
Manilla is free to use because the service is paid by companies to handle delivering bills electronically. Manilla continues to offer more and more of your payees because the companies are saving money on printing and mailing costs. At the time this was written, Manilla worked with over 1,200 companies and more are being added all the time.
The account dashboard in Manilla is uncluttered and organized into four main areas:
Household lists bills that are due or will be soon. Cable, electric, gas, insurance, cell service and other bills are listed here with the due date and amount.
Finance lists all your financial accounts, like credit cards, bank and PayPal accounts.
Subscriptions shows you when magazine subscriptions will expire.
Travel lists travel reward cards and the balance for each.
Bill Tracking
When you set up your account on Manilla and link your bank, credit card and accounts with other financial institutions, you will automatically stop receiving bills in the mail.
Any paperless accounts you already have set up will, of course, remain so.
While payments due on accounts are viewed on the home dashboard, clicking on an account to enter the account details screen reveals information like the current balance, available credit and the last payment date and amount.
Bill Reminders
Bills are presented when you log in to Manilla, and can also download copies to your computer and print them if you want to do so
The home page shows bill reminders with the due date and amount due, although you also get those reminders via text or email. Links to individual bills and statements are offered here. If you have bills coming due, you'll see a number next to the reminders at the top of each page, and bill due dates can be viewed as a list or on a calendar, which is especially helpful for viewing expenses into the future.
A link to your Manilla mail with the number of unread emails is also found at the top of each page. The email consists of bills as they come in, statements, special notices and offers and coupons.
Security
Manilla protects user's data with the same leading edge security offered by banks. The service has frequent security audits and documents are encrypted.
Manilla presents your financial information using account aggregations and is not used to directly pay bills, although it makes doing so easier. Think of Manilla as a mirror of all your accounts, and those accounts can't be changed in any way through the service.