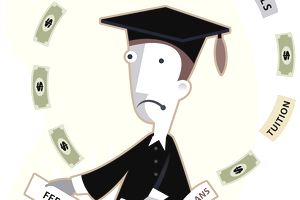 For some lucky borrowers, their chosen profession can provide the means to relief from the burden of student loans. The Public Service Loan Forgiveness Program serves to encourage more people to enter into public service and into professions with non-profit companies that might not pay as much as the public sector does for a comparable degree or level of knowledge and skill. It is designed to allow these borrowers to make payments for a period that would not exceed a standard repayment period of ten years, or 120 payments.
Public Service Loan Forgiveness is available for Direct Loans. It is also available for old FFEL loans and Perkins loans that have been consolidated into Direct Consolidation Loans. Parent PLUS loans are not eligible for this program.
Who Qualifies for Public Service Loan Forgiveness
This type of loan forgiveness requires that the borrower makes 120 on-time payments (ten years' worth) before becoming eligible. The borrower must be working full-time at a qualifying public service organization.
Qualifying public service organizations include: 
any federal, state, or tribal government agency or entity
non-profit organizations that have been designated as tax-exempt under 503(c)(3) organizations by the Internal Revenue Service
non-profit organizations that are not 501(c)(3) but include emergency management, military service, public safety, or law enforcement services; public health provide  services; public education or public library services; school library and other school-based services; public interest law services; early childhood education; public service for individuals with disabilities and the elderly.
In addition to government entities, qualifying non-profits may include:
Public child or family service agencies
Military, law enforcement and public safety
Public schools and colleges
Americorps and Peace Corps
Public interest law services
Public health agencies and organizations
Who Does Not Qualify
People who work in non-public service jobs or work for profit-making companies are not eligible for this program.
In addition, not every non-profit job qualifies. The organization must not be
a labor union
a partisan political organization,
a religious organizations (unless unrelated to worship or religious instruction).
Full Time vs Part Time
This program requires that the borrower be working full time for the employer. This means in general that the employee works at least 30 hours per week, and may include vacation, sick time or time taken under the Family and Medical Leave Act. Teachers working under a contract for at least eight (8) months out of twelve qualify if they work an average of 30 hours a week or more during the contract.
Types of Repayment Plans
Since the standard Direct repayment is ten years, this program will require that the borrower has consolidated his loans into a Direct Consolidation loan, which can run longer than ten years.
Borrowers that are taking advantage of Income-Contingent Repayment, Income-Based Repayment or Pay As You Earn are also eligible for public service repayment.
Special Note for Perkins and FFEL Loans
Perkins and FFEL loans are not eligible for forgiveness through this program unless they have been consolidated into a Direct Consolidation loan.
For Perkins loans that are not consolidated, a percentage of those loans can be forgiven for each year of service in certain public service professions.
See the Department of Education's fact sheet on ways that Perkins Loans can be forgiven.
Keeping Track
The borrower is required to be employed by a qualifying employer for each of the 120 payments. The payments do not have to be successive, however. For instance, a borrower could still qualify if she works for a non-profit for 50 payments, then works for a non-qualifying employer for two years, then for another qualifying employer for 70 payments.
Likewise, time spent in forbearance or deferment will not count toward the 120 payments.
To be included in this program, the borrower must obtain certification from each qualifying employer of the dates of employment. The Department of Education will help you keep track of that information. You can find the form for submitting your certifications here.
For more information, here's the scoop on Public Service Loan Forgiveness from the Department of Education.
For lots more information on managing your student loans during difficult financial times, see our articles on the following issues:
General Issues
What Kind of Loans Do You Have?
Your Options for Managing Student Loans in a Nutshell
Glossary of Helpful Student Loan Terms
When You Can't Make Your Payments
Repayment Strategies During Tough Times
Surviving a Student Loan Default
Dealing with Student Loan Collectors
Loan Forgiveness
Loan Forgiveness for School Status
Loan Forgiveness for Disability or Death
Public Service Loan Forgiveness
Student Loans in Bankruptcy
Using Chapter 13 Repayment Plans