Making Popmoney Payments Is a Snap at US Bank
Transfer money with your cell phone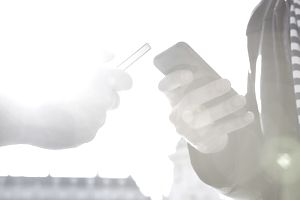 Transfer cash with your cell phone? It may sound like something out of Back to the Future, but mobile banking is taking off, and so are the new ideas sprouting up on how to use it.
US Bank Takes the Helm for Cell Phone Transfers
US Bank offers an innovative mobile banking option to customers. "PopMoney", created by CashEdge, makes transferring funds as simple as sending a text message. More and more customers require a "one-stop shop" for online banking needs.
US Bank can now offer a mobile solution for P2P banking, paving the way to offer customers a streamlined solution. The direct P2P application allows transfers with minimal hassle to customers. The fifth-largest bank in the US, US Bank's competitive online banking upgrade adds value for customers seeking efficient mobile tools.
The Newest Addition to Mobile Banking Solutions
POP stands for "Pay Other People", and represents a new concept that combines the traditional banking need for transfers with customers' increasing reliance on online options. Dubbed "P2P" banking, this developing sphere of mobile banking connects customers using a combination of banking software and existing cellular service. Created by up and coming financial technology firm CashEdge, the interest in PopMoney seems to be spreading. And it's a creative approach to the often long-winded process of cash transfers. People increasingly pay bills, check account balances, and manage their money in the virtual world instead of paper.
Customers of US Bank now have an even easier option- sending money from their cell phones.
Why it's Helpful
PopMoney essentially eliminates the need for customers to find a third party when they want to send funds. If your college-aged daughter needs a last-minute influx of cash, the bank of Mom and Dad can use their US Bank mobile application to send the funds.
No more using third-party vendors for wires or cash transfers, which saves a lot of time. With an email address and cell phone number, the transfer initiates.
Customers of US Bank can send funds to anyone with US Bank's "Mobile Wallet" or USbank.com. No additional logins need to be created. As long as your mobile phone has the "Mobile Wallet" software, you're covered. For on the go professionals who frequently travel, the ability to transfer funds via phone cuts down on potentially stressful situations. No more setting up laptops and numerous logins to transfer funds, frantically calling overpriced wire providers, or trying to FedEx a check for cash emergencies. Just type, click and send.
How it Works
Through US Bank's website or the mobile phone software, customers enter the recipient's email address, cell phone number, and account details. Popmoney acts as an intermediary, notifying the sender and recipient of the cash transfer.
Potential Drawbacks
As early users of Microsoft Vista know, new technology sometimes takes awhile to get the kinks worked out. The basics behind POPmoney sound great, but in execution, customers may run into problems. Mobile banking is still just catching on.
The platforms and models of cell phones are seemingly endless, which could lead to software issues. Customers hesitant to use the service might feel more at ease with an in-depth description of security features and options. Wire transfers may be just as fast in getting the cash from A to B, despite the initial thrill of using a cell phone.