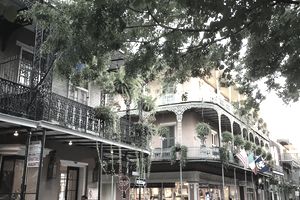 No matter who is at fault, being in a car accident is a nightmare. Even if it is just a minor fender bender, going through the process of getting your car repaired can be a hassle you just don't want to deal with. In most cases, car insurance makes the process a little bit easier by keeping you off the hook for the majority of the cost of repairs.
If you were hit by someone without car insurance, the hassle returns to nightmare status.
And that is why nearly every state, including Louisiana, requires all drivers to carry motor vehicle insurance, along with registering the car in the state. Without this coverage, you can be fined - or worse - if you are pulled over, get into a car accident, or otherwise encounter a police officer who asks for proof of insurance.
Car insurance laws are not regulated by the federal government, but rather on a state-by-state basis. In the Bayou State, you must carry a minimum amount of coverage in order to legally operate a motor vehicle.
Louisiana State Minimum Coverage
Louisiana state law requires that anyone operating a motor vehicle carry liability coverage commonly referred to as 15/30/25 liability limits. This means that the coverage provides payment of $15,000 for bodily injury to one person, $30,000 for bodily injury to more than one person in a single accident, and $25,000 for damage to another person's vehicle or property.
Liability insurance itself refers to coverage for injury or property damage caused by you, the insurance holder, and anyone else driving your car with your permission (or driving another person's car or a rental vehicle).
Of course, drivers can - and often do - choose to carry insurance coverage above and beyond the legal minimum.
This can include comprehensive or collision coverage, uninsured motorist coverage, and medical payments coverage. Although this can be fortunate to have, particularly if you drive an expensive or new car, it is not a requirement - and it increases your monthly premiums.
There are very few exceptions to Louisiana car insurance laws; they include off-road vehicles, nonoperational or non-registered vehicles, parade or display vehicles, vehicles owned by a government agency, and city buses.