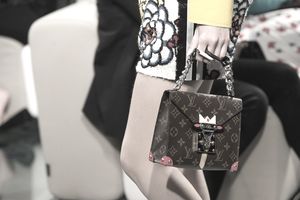 Question: What Was Louis Vuitton's First Job? What Was Louis Vuitton's Career Path?
Louis Vuitton opened his own business manufacturing and retailing his own designs in Paris in 1854. Since the Louis Vuitton style, the Louis Vuitton brand, and Louis Vuitton retail stores are globally well known by luxury shoppers, some of the frequently asked questions about Louis Vuitton the entrepreneur are...
What was Louis Vuitton's first job?
What kind of retail experience did Louis Vuitton have before starting his own design and retailing company? What was the career path of Louis Vuitton?
Answer: The career path of the world famous luxury designer Louis Vuitton did not begin in either fashion or retailing. Louis Vuitton arrived in Paris at the age of 15 and his first job there was as a box maker. Back in 1836, making boxes for the storage and shipment of fine goods was a prestigious enterprise. Apparently Louis Vuitton became particularly skilled at making boxes and packing fine women's apparel and accessories and gained a favorable reputation among Paris' elite.

When Louis Vuitton started his own company in 1854, he had 18 years of box making and packing experience, but only the "retailing" experience he gained observing and participating in the delivery of the goods and services provided by his first employer.

Shortly after opening his own box making and packing business, Vuitton started manufacturing his own innovative travel and transport packaging for apparel and luggage and that's when the Louis Vuitton brand was born.


Click here for more about the history of the Louis Vuitton company >>
All Retail Industry Frequently Asked Questions (FAQs) >>