Ohio Station Outlets - The Market Platform in Burbank, Ohio
Profile, Hours, Directions, Review, Coupons and Sales, Store Listing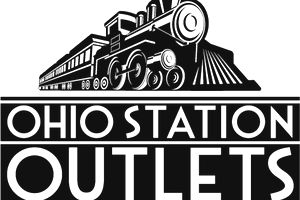 Shoppers visiting or living in the Cleveland, Akron and Canton areas can enjoy browsing over 60 nationally-known designer and retail brands at outlet prices. The popular name-brand outlet stores include Aeropostale Factory Store, Bon Worth, Christopher & Banks, G.H. Bass, Gap Outlet, Maurices, and Pendleton Outlet.
Originally named Lodi Station Outlets, the center was expanded and renamed Ohio Station Outlets - The Market Platform, in September 2015.
The expansion included over 30,000 square feet of shopping area for local merchants and craftsmen to sell a variety of merchandise, including handmade products, furniture, food, and other one-of-a-kind items.
Services provided to visitors to Ohio Station Outlets include a small food court, children's' playground, ATM, and area tourist information, plus it is a pet-friendly center. As an extra attraction, there are two vintage trains, the Sophie and the Victoria,  that, for a small fee, take shoppers for rides around the center.
Contact Information
9911 Avon Lake Road
Burbank, Ohio 44214
Phone: 330-948-9929
Directions:
From Cleveland: Take I-71 South to Exit 204 (Route 83)
From Akron: Take I-76 West I-71 South to exit 204 (Route 83)
From Canton: Take I-77 North to I-76 West to I-71 South to exit 204 (Route 83)
From Columbus: Take I-71 North to exit 204 (Route 83)
Store Hours:
Monday through Saturday, 10 am to 9 pm and Sunday, 10 am - 6 pm
Holiday Hours
Closed Easter Sunday, Thanksgiving Day, and Christmas Day.
Holiday hours may vary.
Train Hours
Monday through Saturday - Noon to 7 p.m.
Sunday - Noon to 5 p.m.
The train hours are weather permitting and are subject to change without notice.
Information on Coupons, Sales and Events:
For shoppers looking for extra savings, the "Current Sales" section on the Ohio Station Outlets website has an ongoing list of current in-store promotions and printable coupons.
The outlet mall's Facebook page is also a good source for finding out about the deals available and about mall events.
Hot Ticket Preferred Program
For additional savings, Ohio Station Outlets offers a Hot Ticket to Savings loyalty program. Preferred members receive exclusive deals and additional savings from many of the outlet stores.
Review of Ohio Station Outlets
I visited the outlet mall before the name changed from Lodi to Ohio Station Outlets. I was asked to supervise a new store opening and ended up staying in the area for around two weeks.
When first driving to the outlet mall, I remember thinking that it was impossible that an outlet mall could be located out in such a rural area. I figured I was lost and, just when I decided to turn around, the outlet mall appeared, nestled behind a large field of (what I guessed) was wheat.
The mall itself is designed like a village, with paved sidewalks throughout. There are small bridges that add to the ambiance. The mall layout is simple and easy to navigate, and the covered walkways add some protection from inclement weather.
The Trains
The sound of the trains enhances the feeling of stepping back in time. During the hectic moments of my visit, I rode the trains as a way to relax and zone out for a bit.
It was enjoyable to listen to the authentic sounds of the train and ride in the open air.
The Shopping
The roundup of outlet stores at the center was above average when I was there, however, based on the current list of stores there have been a lot of store closures. I cannot comment on how things are today, but based on reviews that I've read online, many shoppers give Ohio Station Outlets a (low) average rating.
Despite the store closures, I would visit Ohio Station Outlets again. The mall had a pleasant feel to it, and there are still some great outlet stores located there. Plus, I'd love to take another ride on one of the trains.
Store List
4th & Goal, 330-948-3816
Adidas, 330-948-0060
Aeropostale, 330-948-3103
American Eagle Outfitters, 330-948-0185
Auntie Anne's Soft Pretzels, 330-948-5153
Bath & Body Works, 330-948-9300
Bon Worth, 330-948-2582
Central Station
Caboose Corner, 330-948-9929
Carters, 330-948-5092
Christopher & Banks / CJ Banks, 330-948-4124
Corningware Corelle Revere Factory Store, 330-948-9961
Dress Barn/Dress Barn Woman, 330-948-5044
Eddie Bauer Outlet, 330-948-1529
Famous Footwear Outlet, 330-948-9980
G-H- Bass, 330-948-6566
Gap Outlet, 330-948-0902
Gymboree Outlet, 330-948-5106
Justice - Just for Girls, 330-948-1069
Kitchen Collection, 330-948-1636
Lane Bryant Outlet, 330-302-8116
Lee Wrangler, 330-948-5362
Levi's Outlet Store, 330-948-9902
LOK Ceramics, 330-948-8100
L'eggs Hanes Bali Playtex, 330-948-5212
Maurices, 330-948-1409
Motherhood Maternity Outlet, 330-948-5010
Pendleton Outlet, 330-948-1472
Polo Ralph Lauren Factory Store, 330-948-6550
Rack Room Shoes, 330-948-8012
Rack Room Shoes Outlet, 330-948-9202
Rocky Mountain Chocolate Factory, 330-948-9953
Sample N' Gift, 330-948-9316
SAS Factory Shoe Store, 330-948-4189
Supplement Haven
The Children's Place Outlet, 330-948-0214
The Jockey Store, 330-948-9971
Tommy Hilfiger, 330-948-8872
Toys R Us Express, 330-948-0013
Under Armour Clearance House, 330-948-0279
Van Heusen, 330-948-4320
Vanity Fair, 330-948-1538
VF for Her, 330-948-1705
Wilsons Leather, 330-948-8700
Yankee Candle, 330-948-0015