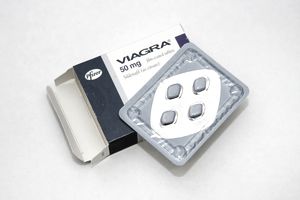 Today, Pfizer's glistening steel tower on East 42nd Street and Second Avenue in Manhattan stands erect – a monument to the drug company's virility and stamina.  But in 1996, Pfizer was limping along.  All you had to do was look into its balance sheets and you could see it was underperforming.  Its $16 billion in annual revenue was practically shriveled next to the huge pharma giants of the day.  And while revenue size isn't all that matters, Pfizer suffered from an ailment common to corporations of a certain age called earnings deficiency, also known as ED.
Many people who knew Pfizer didn't realize it suffered from ED. And Pfizer did what it could to hide it.  It shed unwanted weight by selling its Cody Perfume division and spinning off its Specialty Minerals group.  It reinvigorated its look by italicizing its logo.  Pfizer knew that it needed visible growth – growth it could sustain – but without some kind of enhancement to its portfolio, Pfizer would fail to satisfy investors.
While Pfizer's management suffered over its inability to perform, its chemists in England worked around the clock to develop a new blood pressure medication – sildenafil citrate.  The bad news – sildenafil was awful at lowering blood pressure.  The worse news – it was giving men side effects.
But hold onto your mortar and pestle, the chemists exclaimed, these weren't just any side effects!
And that a-ha! moment gave rise to Viagra. And oh what a rise it was…
In 1996, from my windowless office deep inside that glistening steel tower, I moved Pfizer's drug substance around the globe.
  As pre-launch forecasts for Viagra started to stretch the limits of PowerPoint's bar chart wizard, Pfizer realized it needed to figure out how it was going to make all those little blue diamonds.
To oversimplify the Viagra manufacturing process: the bulk drug substance – sildenafil citrate – was to be organically synthesized by Pfizer plants in Ireland and Puerto Rico.
The blue diamonds themselves were to be compressed into shape by various global tablet-making facilities. Except… to meet the pre-launch forecasts, there just wasn't enough available capacity at those Ireland and Puerto Rico plants.
The solution – optimized supply chain!
I made my first strategic sourcing trip to China in November 1996.  All the production capacity we had in Ireland and Puerto Rico, at that time, was used to synthesize silly things like antihypertensive, anti-fungal and diabetes medications.  They needed to be outsourced, so we could make room for vat-after-vat of the blockbuster cure for ED. Let the optimization begin!
The first factory I visited proudly showed off that it could make our products – since it was already counterfeiting our anti-fungal agent fluconazole.  (We ended up qualifying them for early stage – non-proprietary – synthesizing.)
We identified manufacturing facilities (ones that our chemists could bring up to speed in the shortest amount of time) in China, but pharmaceuticals are highly regulated. Drug substance organic synthesis is done in stages and we were able to outsource the high capacity early stages without creating too many regulatory resubmissions.
Of course, moving part of your production to the other side of the world meant adjusting manufacturing routers and lead times within our facilities in Ireland and Puerto Rico. But that got done, too. Qualifications were finally finished. Outsourced production began in 1997. Sildenafil citrate production got loaded into our Pfizer facilities – and then more of it got loaded. And then more of it. When Viagra launched in 1998, it soared to $1 billion in sales faster than any pharmaceutical product in history. In history! Curing a dysfunction that most people didn't realize was a dysfunction.
By 2001, Pfizer grew to the largest pharmaceutical company in the known galaxy. And it's sustained that growth over time. Before Viagra, when people heard I worked for Pfizer, they assumed I made faucets for a living.
After Viagra, Pfizer employees cashed in options to buy their parents retirement homes.
I'm not saying optimized supply chain can keep you from suffering from ED, but Viagra's success launched Pfizer into the pole position. And optimized supply chain made Viagra's success possible. Okay, maybe I am saying that optimized supply chain can help prevent ED – the earnings deficiency kind, not... well, what you do with your optimized supply chain is your own business.