List of Writers Associations
Writers! Find A Writing Association That Meets Your Needs Here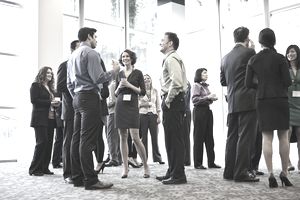 Joining a writer's association holds many advantages for you, dear writer! My favorite part of writer's associations is the camaraderie.
Although I didn't include editorial associations here, one of my very favorite groups is the Editorial Freelancers Association. Every day, I follow some interesting, friendly conversations via their email digest. Many of them are very experienced editors, too, and that's another advantage of the writing association: the depth of knowledge out there, and the ability to network with those colleagues.
In addition, many writing associations have informational emails or newsletters which are chock full of information, services, and ideas.
Other advantages, especially from guilds and unions, include business-oriented help such as contracts and collections services.
Last, but not least, some associations offer conferences, meetings and similar training opportunities.
Should You Create Your Own Writing Association?
Of course, if no group on this list works for you, how about creating your own writing group? A local group that you meet with in person may be more pleasurable for those of us who are a bit more social. In addition, a local group may also serve as an accountability group for you! You could start working the locals by connecting with a local librarian or placing a flier in book stores.
Writers Associations By Name (Alphabetized)
I've compiled this large list of associations for writers.
Although I've included some fiction/poetry-oriented groups, I have shortened the list by choosing to forego state-specific associations (although I've included a link where you can find those). In addition, I've kept this list US-centric. There are umpteen Canadian, Australian and UK-based associations out there, though, along with every other nation surely represented!
Academy of American Poets
African American Online Writers Guild
American Amateur Press Association
American Business Media
American Christian Fiction Writers
American Christian Romance Writers
American Christian Writers Association
American Communication Association
American Crime Writers League
American Grant Writers Association
American Medical Writers Association
American News Women's Club
American Screenwriters Association
American Society of Journalists and Authors
American Society of Media Photographers
American Writers and Artists Inc
Asian American Journalists Association
Association for Business Communication
Association of Christian Writers
Association of Food Journalists
Association of Music Writers and Photographers
Association of Professional Freelance Copywriters 
Association of Writers and Writing Programs
Association of Young Journalists and Authors
Authors and Publishers Association
Authors Guild
Black Writers Alliance
Cat Writers' Association
Chartered Institute of Journalists
Christian Writers Group International
Construction Writers Association
Council for the Advancement of Science Writing
Christian Writers Guild
Dog Writers of America
Dramatists Guild of America
Educational Writers Association
Erotica Readers and Writers Association
Fellowship of Actors, Artists, and Authors
Garden Writers Association of America
Heartland Writers Guild
Horror Writers Association
International Alliance of Female Copywriters
International Association of Aspiring Writers
International Association of Business Communicators
International Association of Crime Writers
International Center for Journalists
International Association for Women Playwrights
International Communication Association
International Federation of Journalists
International Food, Wine and Travel Writers Association
International Science Writers Association
International Screenwriter's Association
International Society for Travel Writing
International Travel Media
International Travel Writers Alliance
International Women's Media Foundation
International Women's Writing Guild
Investigative Reporters and Editors
Midwest Writers
Midwest Travel Writers Association
Military Writers Society of America
Mystery Writers of America
National Association of Independent Writers and Editors
National Association of Science Writers
National Association of Women Writers
National Conference of Editorial Writers
National League of American Pen Women
National Resume Writers Association
National Society of Newspaper Columnists
National Writers Association
National Writers Union
Native American Journalists Association
New England Writers
New York Financial Writers Association (although state or city specific, I include this as it's the only finance-targeted association I could find)
North American Ski Journalists Association
North American Travel Journalists Association
Northwest Christian Writers Association
Northwest Writers
Novelists Inc
Ozark Creative Writers
Outdoor Writers Association of America
Outdoor Writers Guild
Outdoor Writers and Photographers Guild
Pacific Northwest Writers Association
PEN American Center
Poetry Society of America
Police Writers Professional
Professional Copywriters Association
Professional Communications Society
Professional Writers Alliance
Religion News Writers Association
Rocky Mountain Fiction Writers
Romance Writers of America
Science Fiction and Fantasy Writers Association
Science Fiction Writers of America
Sisters in Writing
Society for Technical Communication
Society of American Travel Writers
Society of Children's Book Writers and Illustrators
Society of Environmental Journalists
Society of Professional Journalists
Society of Southwestern Authors
Society for Technical Communication
South Asian Journalists Association
Southeastern Outdoor Press Association
Southeastern Writers Association
StoryCircle (memoirists)
Technical Writer Association
The Authors Guild
Travel Journalists Guild Travel Writers Association
Western Writers of America
Women Writing the West
Writers Guild of America, East
Writers Guild of America, West