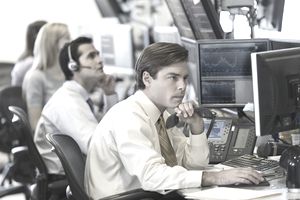 Looking to trade some US Treasury Bond ETFs? Then you've come to the right place. Compiled especially for you, a full list of U.S. Treasury Bond ETFs (also known as TIPs funds) updated as they are issued (or delisted)
List of US Treasury Bond (TIPs) ETFs and ETNs
AGZ – iShares Barclays Agency Bond ETF
BIL – SPDR Barclays Capital 1-3 Month T-Bill ETF
DLBL - iPath US Treasury Long Bond Bull ETN
DLBS - iPath US Treasury Long Bond Bear ETN
DTUL - iPath US Treasury 2-year Bull ETN
DTUS - iPath US Treasury 2-year Bear ETN
DTYL - iPath US Treasury 10-year Bull ETN
DTYS - iPath US Treasury 10-year Bear ETN
EDV – Vanguard Extended Duration Treasury Index ETF
FIVZ - PIMCO 3-7 Year U.S. Treasury Index Fund (recently closed)
FLAT - iPath US Treasury Flattener ETN
FSA - FactorShares 2X TBond Bull/S&P500 Bear ETF
FSE - FactorShares 2X S&P500 Bull/TBond Bear ETF
GBF – iShares Barclays Government/Credit ETF
GLJ - iShares 10+ Year Government/Credit Bond ETF
GOVT - iShares Barclays U.S. Treasury Bond ETF
GVI – iShares Barclays Intermediate Government/Credit ETF
IEF – iShares Barclays 7-10 Year Treasury ETF
IEI - iShares Barclays 3-7 Year Treasury ETF
ILB - Global Advantage Inflation-Linked Bond Strategy ETF
ITE – SPDR Barclays Capital Intermediate Term Treasury ETF
LBND - PowerShares DB 3X Long 25+ Year Treasury Bond ETN
MINT - PIMCO Short Maturity Strategy Fund
PLK – PowerShares Active Low Duration ETF
PST - UltraShort 7-10 Year Treasury ETF
PLW - PowerShares 1-30 Laddered Treasury ETF
SBND - PowerShares DB 3X Short 25+ Year Treasury Bond ETN
SHV – iShares Barclays Short Treasury ETF
SST - SPDR Barclays Capital Short Term Treasury ETF
STIP - iShares Barclays 0-5 Year TIPS ETF
STPP - iPath US Treasury Steepener ETN
SYTL - Direxion Daily 7-10 Year Treasury Bull 2X Shares ETF
TAPR - Barclays Inverse U.S. Treasury Composite ETN
TBF – ProShares Short 20+ Year Treasury ETF
TBT – ProShares UltraShort 20+ Year Treasury ETF
TBX - Short 7-10 Year Treasury ETF
TBZ - UltraShort 3-7 Year Treasury ETF
TDTF - FlexShares iBoxx 5-Year Target Duration TIPS Index Fund
TDTT - FlexShares iBoxx 3-Year Target Duration TIPS Index Fund
TENZ - Pimco 7-15 Year U.S. Treasury Index ETF (recently closed)
TLH - iShares Barclays 10-20 Year Treasury ETF
TLO – SPDR Barclays Capital Long Term Treasury ETF
TLT - iShares Barclays 20+ Year Treasury ETF
TPS - ProShares UltraShort TIPS ETF
TRSY - Pimco Broad US Treasury Index ETF
TTT - UltraPro Short 20+ Year Treasury ETF
TUZ - PIMCO 1-3 Year US Treasury Index ETF
TYBS - Daily 20 Year Plus Treasury Bear 1x Shares ETF
TYNS - Daily 7-10 Year Treasury Bear 1x Shares ETF
UBT - Ultra 20+ Year Treasury ETF
USFR - Wisdom Tree Bloomberg Floating Rate Treasury Fund
UST - Ultra 7-10 Year Treasury ETF
VGIT - Vanguard Intermediate-Term Government Bond Index ETF
VGLT - Vanguard Long-Term Government Bond Index ETF
VGSH - Vanguard Short-Term Government Bond Index ETF
So that is the current list we have as of now. However, be sure to check back often as I will update this list as needed. If new funds are approved, I will ad them to this list, or if any stop trading, I will remove them from this list. Two examples of funds that are now closed are FIVZ and TENZ.
And while some of these funds may be attractive, be sure to conduct thorough research before making any trades. Check the history of the ETF, understand the risks, watch the fund in action and see how it reacts to different market conditions. Also, take a look at what is in the funds as many ETFs may contain derivatives such as futures and options. And if you have any questions or concerns, be sure to consult a financial professional, such as a broker or advisor.
And for those of you who are unfamiliar with Treasury Bond ETFs, they are issued and backed by the US Government and tend to have less risk than corporate bonds.
They have durations of over 10 years, make semi-annual interest payments, and are taxed on the federal level. They are initially bought through an auction and prices can range from $1,000 to $5,000,000.