Team Building Skills List and Examples
Team Building Skills for Resumes, Cover Letters and Interviews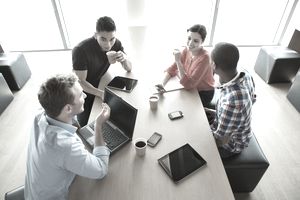 Being able to build and manage a successful team is a qualification for many different types of jobs. When you're being considered for a position that requires managing or being part of a team, you will need to show the employer that you have the right skills for the job.
You can use your resume, cover letter and job interviews to showcase your team building skills to potential employers.
What is Team Building?
The ability to build cohesive working units is a highly valued skill for most employers.
Team building is a process by which individual members of a department or interdepartmental group are encouraged to develop a more collaborative working relationship.  
Managers, supervisors, and outside consultants seek to instill a cooperative spirit within team members as well as an understanding and appreciation of the roles which fellow employees play.
How Teams Add Value to an Organization
Employers believe that highly collaborative teams will add value through greater productivity, higher morale, less counter-productive conflict and better customer relations.  Some organizations use team building to spur productive competition between groups such as sales teams covering different products or regions.
Successful Team Building
A group process whereby members feel invested in the direction taken and results achieved by the collective is a critical element in team building.  Individuals need to have input towards developing group objectives and defining the strategies employed to reach those goals.
Ideally, management draws consensus around mutually agreeable directions for the group to maximize buy in by team members.
Clearly defining the roles and responsibilities of individual members is another essential ingredient for successful team building. That way, members know what to expect and what not to expect from their fellow group members.
Organizations can enhance team building by recognizing and rewarding team achievements.  Leaders must have mechanisms in place to facilitate communication and the resolution of problems as conflicts arise amongst group members.
Show the Employer You Have the Right Skills
When you're applying for a job where team building is listed in the qualifications, be sure to incorporate your most relevant skills into your resume and cover letters.
Also share examples of how you have successfully grown a team during job interviews. Review these teamwork interview questions before you interview.
Examples of Team Building Skills
A – E
Adaptability to changing circumstances
Addressing behavior which disrupts group harmony
Assessing group progress
Brainstorming strategies and solutions freely
Coaching
Cooperation by managers of departments comprising cross functional teams
Cultivating positive group leaders
Defining work roles clearly
Delegating tasks to appropriate members
Drawing consensus around goals and strategies
Encouraging input from reticent members
Establishing group norms
F – Z
Facilitating group discussion
Hiring team oriented staff
Identifying the strengths and weaknesses of team members
Mentoring new members
Providing feedback
Recognizing and rewarding group achievements
Recording and disseminating team solutions
Responding to constructive criticism
Setting expectations
Terminating chronically unproductive team members
Training
Skills Lists: Employment Skills Listed by Job | Lists of Skills for Resumes
Read More: Teamwork Skills | 10 Tips for Better Teamwork
Related Articles: Soft vs. Hard Skills | How to Include Keywords in Your Resume | List of Keywords for Resumes and Cover Letters | Skills and Abilities