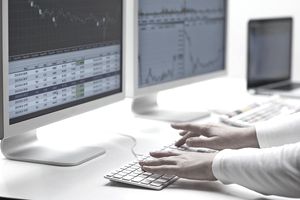 In total we only saw 13 new ETFs and ETNs come to market, but we only lost one ETF as well, ERW, the Janus Equal Risk Weighted Large Cap ETF. So we gained 12 new products in net. And we also saw 18 new funds and notes get filed with the SEC (security exchange commission) as well. Not as much as we saw in January when 35 new exchange traded products were filed, but still good to see the activity none the less.
And with a full set of days in March, we should see an uptick in ETF and ETN activity.
Getting back to the new funds that launched, we had 13 new funds and notes in total and 6 were ETNs and 7 were ETFs, so some nice balance there. Of the new products, Etracs led the way with 3 new ETNs. Two of which were both MLP notes as well as 2x leveraged products. The other notes was a new oil ETN. And Credit Suisse matched Etracs with a new oil ETN of their own, OIIL, the Credit Suisse X-Links WTI Crude Oil Index ETN.
Janus also had a pair of new ETFs, both of which were small cap focused, while UBS launched a pair of new ETNs as well. Both notes are enhanced international ETNs. Then we have some of the usual suspects like WisdomTree and Proshares, and others like Yield Shares and Pacer.
So from infrastructure notes to a Europe fund, if you missed any of the launches or official announcements in February, I have your back with this....
List of ETFs and ETNs in February of 2016:
Etracs New Funds and Notes
OILX - Etracs S&P GSCI Crude Oil Total Return Index ETN 
MLPQ - Etracs 2x Monthly Leveraged Alerian MLP Infrastructure ETN Series B
MLPZ - Etracs 2x Monthly Leveraged S&P MLP Index ETN Series B
Janus New Funds and Notes
JSML - Janus Small Cap Growth Alpha ETF
JSMD - Janus Small Mid Cap Growth Alpha ETF
UBS New Funds and Notes
FIEE - UBS AG FI Enhanced Europe 50 ETN
FIHD - UBS AG FI Enhanced Global High Yield ETN
Other New Funds
OIIL - Credit Suisse X-Links WTI Crude Oil Index ETN
FUT -  ProShares Managed Futures Strategy ETF
PGHD - Pacer Global High Dividend ETF
PUTW - Wisdom Tree CBOE S&P 500 Put Write Strategy Fund
SOVB - Cambria Sovereign High Yield Bond ETF
YYY - Yield Shares High Income ETF
So there are your 13 new ETFs and ETNs. and feel free to visit any of the ETF provider websites for more information on each of the new products (holdings, represented sectors or countries, etc). 
And keep in mind that while these new funds may be attractive, they do have their risks. As do all investments, but especially new ones as they don't have much of a trading history. So make sure you research each new fund or note thoroughly before making any trades. Watch how the funds react to different market conditions. Understand what is in each fund, especially the leveraged and inverse ETFs, which typically contain derivatives.
And if you have any questions or concerns about any of the new ETFs or ETNs on this list, be sure to consult a financial professional such as a broker or your financial advisor or planner.
However, once you have completed your full due diligence, then good luck with all of your trades on these funds or any others.
Disclaimer: At the time of publication of this article about ETFs launched in February of 2016, I do not have any open positions in any of the exchange traded products listed above - Mark Kennedy