List of Energy ETFs and ETNs
Various Energy ETFs and ETNs to Consider for Your Portfolio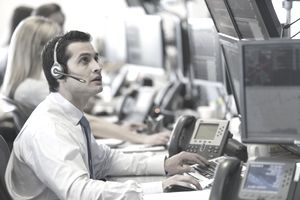 Energy ETFs can be a great addition to your portfolio in order to diversify, curb inflation, hedge your energy investments, or just gain some exposure to the energy sector. And if you look carefully, you may even find an emerging market.
However, I strongly suggest watching each of these industry and commodity ETFs to see how they react to market conditions before making any investments.
To learn about each ETF or ETN, click on the listing for a description of the fund to help you decide if any of these assets should be a part of your investing strategy.
Broad Energy ETFs
AXEN - iShares MSCI ACWI ex US Energy Sector Index ETF (Closed)
CHIE - Global X China Energy ETF
EMLP - First Trust North American Energy Infrastructure ETF
ENFR - Alerian Energy Infrastructure ETF
ENY - Claymore/SWM Canadian Energy Income ETF
ERX - Direxion Daily Energy Bull 3X Shares ETF
ERY - Direxion Daily Energy Bear 3X Shares ETF
ERYY - Direxion Daily Energy Bear 1X Shares ETF
FENY - Fidelity MSCI Energy Index ETF
FILL - iShares MSCI Global Energy Producers Fund
FXN - First Trust Energy AlphaDEX ETF
ICLN - iShares S&P Global Clean Energy Index ETF
IPW - SPDR S&P International Energy Sector ETF
IXC - iShares S&P Global Energy Sector ETF
IYE - iShares Dow Jones US Energy Sector ETF
JJE - iPath DJ-UBS Energy Total Return Sub-Index ETN
JHME - John Hancock Multifactor Energy ETF
OGEM - EGShares Energy GEMS ETF
ONG - iPath Pure Beta Energy ETN
PSCE - PowerShares S&P SmallCap Energy Portfolio
PUW - PowerShares WilderHill Progressive Energy ETF
PXE - PowerShares Dynamic Energy Exploration & Production ETF
PXI - PowerShares Dynamic Energy ETF
RGRE - RBS Rogers Enhanced Energy ETN (Closed)
RJN - ELEMENTS Rogers International Commodity Energy ETN
RYE - Rydex S&P Equal Weight Energy ETF
SPXE - S&P 500 Ex-Energy ETF
UBN - UBS E-TRACS CMCI Energy Total Return ETN
VDE - Vanguard Energy ETF
XLE - Energy Select Sector SPDR
Clean and Alternative Energy ETFs
GEX – Market Vectors Global Alternative Energy ETF
PBD - PowerShares Global Clean Energy Portfolio ETF
PZD – PowerShares CleanTech Portfolio ETF
PBW – PowerShares WilderHillClean Energy ETF
QCLN – First Trust NASDAQ Clean Edge Green Energy ETF
Natural Gas ETFs
DCNG - iPath Seasonal Natural Gas ETN
FCG – First Trust ISE-Revere Natural Gas ETF
BOIL - ProShares Ultra DJ-UBS Natural Gas ETF
KOLD - UltraShort DJ-UBS Natural Gas ETF
FRAK - Market Vectors Unconventional Oil & Gas ETF
GASL - Direxion Daily Natural Gas Related Bull 3X Shares ETF
GASX - Direxion Daily Natural Gas Related Bear 3X Shares ETF
GASZ - ETRACS Natural Gas Futures Contango ETN
GAZ – iPath DJ AIG Natural Gas TR Sub-Index ETN
IGAS - Global Natural Gas Small Cap Equity ETF
MLPG - UBS E-TRACS Alerian Natural Gas MLP Index ETN
UNG – United States Natural Gas ETF
Gasoline ETFs
UGA – United States Gasoline ETF
Oil ETFs
(And for a more specific oil list, here is a list of short oil ETFs)
Why Oil ETFs May Be a Fit for Your Portfolio
BARL - Morgan Stanley S&P 500 Crude Oil Linked ETN
BNO - United States Brent Oil Fund
IOIL - Global Crude Oil Small Cap Equity ETF
FRAK - Market Vectors Unconventional Oil & Gas ETF
OILZ - ETRACS Oil Futures Contango ETN
OLEM - iPath Pure Beta Crude Oil ETN
UCO - ProShares Ultra DJ-AIG Crude Oil ETF
WCAT - Jefferies TR/J CRB Wildcatters Exploration & Production Equity ETF
FOL - FactorShares 2X Oil Bull/S&P500 Bear ETF
SNDS - Sustainable North American Oil Sands ETF
Coal ETFs
Coal ETFs – Not a Bad Investment for Your Stocking
Wind ETFs
Wind ETFs - Are You Bullish or Bearish?
FAN – First Trust Global Wind Energy ETF
Solar Energy ETFs
Making Green with Solar Energy ETFs
KWT – Market Vectors Solar Energy ETF
TAN - Claymore Mac Global Solar Energy ETF
Nuclear Energy ETFs
NLR - Market Vectors Nuclear Energy ETF
NUCL – iShares S&P Global Nuclear Energy Index ETF
Biofuels ETFs
FUE – Elements MLCX Biofuels Index Total Return Index ETN
Electrical Energy ETFs
GRID - the First Trust NASDAQ Smart Grid Infrastructure Index ETF
Emerging Markets Energy ETFs
7 Ways Invest in Emerging Markets with ETFs
EEO – the EGS Emerging Markets Energy ETF