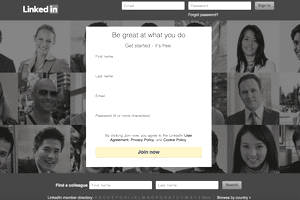 LinkedIn is the top online directory of professionals and companies. Individuals and companies use LinkedIn for professional networking, recruiting, job searching, career building, and for staying in touch with their connections.
Hundreds of companies use LinkedIn's Talent Solutions, a tool that helps hiring managers and recruiters use LinkedIn to find job candidates. Others simply use LinkedIn on their own to find and recruit potential employees.
Because employers use LinkedIn for hiring purposes, it is important for job seekers to be on LinkedIn. Read below for information on how to sign up for LinkedIn, how to create a strong profile, and how to log in once you have created a profile.
Information Needed to Sign Up for LinkedIn
In order to log in to LinkedIn, you'll first need to sign up to join. Luckily, it's free to create a LinkedIn account. Here is how:
Visit LinkedIn
Enter your first and last name
Enter your email address
Create a password (choose you own password; must be six or more characters)
Click "Join now"
Create a LinkedIn Profile
After you have signed up for a LinkedIn account, you'll be able to create your LinkedIn profile. You should include all the same information as your resume – your past and present employment, education, volunteer experience, and skills. You can also add a summary at the top of your profile, which is similar to a resume summary.
Use your profile like a resume and provide prospective employers with detailed information about your skills and experience. The more complete your LinkedIn profile is, the more chances you'll be contacted by a recruiter or employer.
You also have to make a headline for your LinkedIn profile. Your LinkedIn headline appears just below your name.
It is a short statement (not a full sentence) that declares who you are professionally. It is essentially your online brand that you're putting out there to the world – that's because your headline, name and photo are the only things a LinkedIn user sees when searching a LinkedIn database and discovering your profile. Those elements determine whether the reader will click through to your full profile.
Because it is a way to interest a reader, make your headline grabs the reader's attention! "Branding manager seeking new opportunity" is dull, but "Technology products branding exec looking to make small businesses skyrocket" shows how you might add value to a company. Because a LinkedIn headline is similar to a resume headline, read these tips on writing a strong resume headline.
You can also add a photo to your LinkedIn profile. You typically want the photo to be a headshot, and you want to look professional in the photo. Here is more detailed advice on how to take and choose a photo for your LinkedIn profile. You can also add a background photo to your profile. If you choose to do this, use an image that is related to your professional life. For example, if you are a graphic designer, you might include an image you created.
If you are an art historian, you might include an image of a painting you write about.
Finally, make your profile unique. If you're simply creating a dull laundry list of previous jobs, add some elements to jazz up your profile, like a presentation video, a speech you gave, or a link to an article you've published. Click on "Add New Profile Section," and then click on "Accomplishments," to see how to add a project or other unique component to your page.
LinkedIn Login
Once you have created a profile, you'll be able to login to your LinkedIn account to update your profile, connect with networking contacts, send messages to those contacts, job search, find information on hiring companies, and join career and business-related groups. Here is how to login:
Visit LinkedIn
Enter your email address
Enter your password
Click "Sign in"
You should be brought to your "Home" page. Click on "Me" in the top right corner of the page to go to your profile and make any edits.
It's important to login to LinkedIn on regular basis to work on building your network of contacts and to keep your profile updated.
Networking on LinkedIn
It's critical to put in the time to build your profile, add to your connections, and effectively use your contacts to aid in your job search. It's also important to give back and help your connections when they need advice and referrals - networking is about building relationships rather than just asking for assistance and it works both ways.
Read More: LinkedIn Professional Networking Site | How to Use LinkedIn | How to Job Search on LinkedIn | How to Make a Better LinkedIn Profile |