LinkedIn: What Is It and How Can It Help Your Home Business
Definition and Uses of LinkedIn in Home Business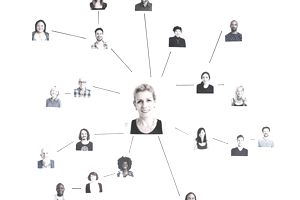 Definition of LinkedIn
LinkedIn is a social network within the larger world of social media geared toward careers and business. Currently, over 65 million professionals in over 200 countries use LinkedIn to network, build strategic relationships, find endorsements and referrals, and connect with valuable resources. Unlike most other social networks that have a social or entertainment aspect, LinkedIn is all about professional networking.
The quality of connections is more important than the quantity, which is why once you hit 500 connections, LinkedIn stops showing the actual number of people in your network. 
LinkedIn is the ideal spot for people looking for employment, but also for self-employed freelancers and home business owners. You can market yourself and your business, network with others to gain referrals, and get mentorship and support from other professionals through groups. 
How LinkedIn Works
LinkedIn isn't that much different from other social networks, in that you need to create an account and complete a profile. To maximize your efforts, make sure your profile is finished, including photo, before starting to make connections. Once your profile is done, you can check out profiles of others and seek out a connection.
LinkedIn differs from other social networks in that you want to be strategic in your networking.
Start by connecting with people and companies that you know or knows you. Similar to the six degrees of separation, you can make more connections through people you're networking with. 
Consider joining groups to meet other people, share your expertise, and get support and referrals. There are over a million groups, so odds are you'll find one that caters to your market and/or industry.
How You Can Use LinkedIn to Build Your Home Business
Before promoting your LinkedIn profile, make sure you've completed the profile, including a picture. Also, remember this is an online resume and marketing piece, so write your information in terms of benefits you provide in easy to digest chunks (i.e. bullets). One you have your profile completed, you can do the following to connect with influencers, potential clients and customers, and build strategic partnerships:
1) Visit LinkedIn at least once a day to see what your connections are doing. Like other social media, people are more likely to engage with you if you engage with them first. Like, comment or share what others post.
2) Participate in discussion forums, answering questions and providing support. This shows off your expertise and allows you to build rapport with your market and potential connections.
3) Endorse others in your network. An endorsement is easy. When you visit LinkedIn, it will automatically provide you with people you can endorse with the click of a button just above your profile. You can visit another member's profile, and you can endorse them from there as well.
4) Recommend others. While an endorsement is a quick click, a recommendation requires writing something.
It's more work, but also carries more power. You can ask others to write a recommendation, but it will be easier and more likely reciprocated if you write one for them first. 
5) Create a customized LinkedIn URL and share it on your website, blog, other social media, and print marketing materials. The only reason not to do this is if you're profile is private, which means it can only be seen by LinkedIn members. Having a public LinkedIn profile means it can be found in search engines, and people outside of LinkedIn can view it.
6) Add profile sections to maximize your appeal. LinkedIn allows you add features to your profile, such as books, videos and more. Click on Edit Profile from the drop down list in the Profile menu bar. Between the main info about you and your summary, you'll see "'Add a section to your profile," under which you'll have a couple of options such as volunteer work.
Under that, you'll see View More, which allows you to pick new profile sections you want to add. 
This article is part of The Ultimate Guide to LinkedIn.
Updated May 2016 Leslie Truex